Time to reform social welfare appeals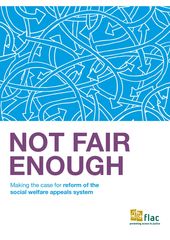 Cover image for Not Fair Enough
In October 2012 FLAC launched a report that recommends comprehensive reform of Ireland's system of processing appeals on refusals of social welfare applications. Entitled Not Fair Enough, the report is a legal analysis of how the appeals system meets basic human rights standards on issues like fairness, transparency and access to justice. It also presents findings from a survey of advocates who help people to make appeals on payments, which strongly indicates systemic change is needed.
Some of FLAC's main concerns are:
that people who are entitled to a payment should not have to suffer excessive delay while awaiting an appeal decision, especially where they are at risk of destitution;
that people should receive a fair hearing in the appeals process, with full access to all the information available and with legal advice and support where needed; and
that the office responsible for processing appeals be fully independent so it can be free from any perception of interference.
In practical terms, the Social Welfare Appeals Office is dealing with an increasing volume of appeals over the last decade, up 51% between 2001 and 2010. In 2011, there was a record high of 51,515 live (or on-going) appeals. This is impacting on processing times, especially as the number of Appeals Officers has not increased proportionately. The average processing time per case in 2011 was 32 weeks.
Some of the report's more detailed concerns include:
In 2011, almost 1 in 5 decisions was overturned just by getting the original Deciding Officer to revise his or her own decision. FLAC argues that this very high success rate of appeals shows that many original decisions to refuse a payment were wrong in the first place. Better first-instance decision-making could reduce delay, bureaucracy and spending.
For a legal process to be fair, both sides must be heard - and this is not always an option for appellants. The higher volume of cases and the need to reduce costs has led the Appeals Office to rely more heavily on summary decision-making, based solely on written submissions. In 2011, it dealt with 65% of cases summarily versus 41% in 2009. However, appellants have a higher success rate when an oral hearing is held because it allows them to make a fuller presentation of all their circumstances with representation where possible.
Appellants are not granted automatic access to all relevant information on their case, which they must actively seek by letter or via Freedom of Information. They cannot access state legal aid to advise and assist them in what can be a very complicated process, as borne out in FLAC's survey of advocates who assist on appeals.
The system lacks transparency. The Appeals Office does not publish its previous decisions, even in an anonymised format, which can leave the appellant at a disadvantage, not knowing where an established point of law or policy has already been decided on clarified in a previous appeal.
Finally, the appeals mechanism is not independent. The Appeals Office must adjudicate on decisions of the Department of Social Protection, of which is it a part. Appeals Officers are employees of the Department, appointed by the Minister for Social Protection, and may return to another Department section after working in the Appeals Office. FLAC's survey of advocates with experience in appeals found that while most viewed the Appeals Office as "somewhat independent" and "somewhat fair" they were concerned that the close links between the Appeals Office and the Department tended to undermine appellants' confidence in the Office.
FLAC's reports suggests some simple and cost-effective ways to make the appeals system fairer and more effective. For instance, the government could set time limits on decisions, the Appeals Office could publish decisions (even anonymised) like other quasi-judicial bodies such as the Equality Tribunal already do, or Department staff could be trained to make better decisions in the first place.
FLAC believes that Ireland can have a fair, independent and transparent system of social protection that will protect the dignity and welfare of all people - if it is based on fundamental human rights. In this report, we hold our social welfare appeals system to account against the state's legal commitments under international human rights law.
Campaign Resources
Also - some basic legal guides:
Presentations from the launch: