Work opportunities
FLAC is currently recruiting for the role of:
Legal Officer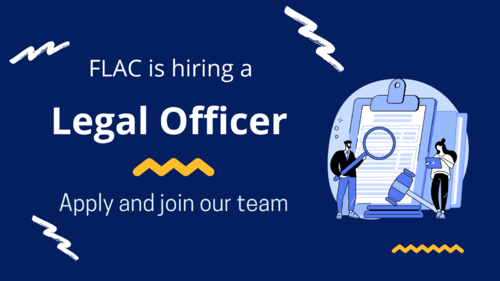 Role Description
Legal Officer
FLAC (Free Legal Advice Centres) is an independent legal and human rights organisation, which exists to promote equal access to justice. Our vision is of a society where everyone can access fair and accountable mechanisms to assert and vindicate their rights.
FLAC is seeking to recruit a full time legal officer to develop its client advocacy work and support its litigation practice and team of two solicitors. 
The specific duties of the role:
Consultations with clients and advocates: taking calls, responding to emails, attending at legal clinics, accurately recording details, meeting clients and advocates, preparing attendances, preparing case plans and drafting correspondence under the direction  of  the relevant solicitor;
Maintenance of Casework database: Entry/recording of consultations and all legal casework; maximising the capacity and use of the casework system within FLAC, to generate statistics and records.
Provision of administrative assistance: Provide assistance to each solicitor in drafting legal documents, complaints and submissions to Courts and Tribunals and other casework as arises;
Casework/Advocacy: Assist with the administration of Roma/ Traveller/LGBTQI & Other client files and queries including follow­ up with those seeking advice/assistance. Facilitate access to other services as needed and also assist with the drafting and submission of documents on behalf of clients to relevant authorities;
Case-file administration: To assist each solicitor with casefile administration including preparation of briefs, liaising with counsel and other parties, photocopying of documents and maintaining documents on the casework database;
Court and Tribunals: Attendance at and assistance with Court and tribunal hearings as required;
Legal Administration: Filing, issuing and serving of legal documents as required;
Research: undertaking research as required including as requested by each solicitor.
Any other duties as may be required from time to time in connection with this position.
Essential Requirements
Demonstrated commitment to human rights and equality;
Law degree/ other similar legal qualification;
Experience of advocacy work;
Good organisational skills and attention to detail and
Ability to work on own initiative and also as part of a team.
Desirable
Knowledge of using casework database;
Proficiency in MS Office (Word and Excel);
Experience of working in a legal practice/ advocacy role in an NGO;
Experience of policy work and
Ability to speak Romanian/ Romani.
A CV and covering letter should be sent to recruitment@flac.ie, by 8th July  FLAC is an equal opportunities employer.
Please keep an eye on our social media platforms for news of any future opportunities.