Join the Friends of FLAC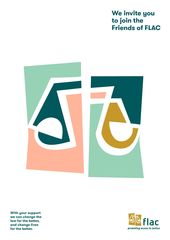 Cover image for Friends of FLAC LeafletFLAC is fortunate to have a large pool of committed volunteers and supporters who have contributed their time and resources over many years, allowing us to provide legal assistance to 27,500+ people annually.
Although we have seen an increase in demand for our services, our funding has decreased. It currently costs approximately €250 a day to run our telephone information line and €375 per day to ensure that all our FLAC centres operate smoothly.
In December 2014, at the Dave Ellis Memorial Lecture given by Bryan Stevenson, we launched the Friends of FLAC programme – a way for supporters of FLAC to contribute on a regular basis to our ongoing campaign for access to justice. We are inviting our supporters to make a donation of €21 per month.
If you are an Irish taxpayer and donate €21 per month or €250 per year or more, we can increase the value of your donation by almost 45%, through Tax Efficient Giving.
Read more about the Friends of FLAC programme and how your contribution can make a real difference to access to justice in Ireland.
Print out and complete a standing order form to join the Friends of FLAC programme.
If you would prefer to make a once-off donation to FLAC, you can do so online or learn about other ways to donate to FLAC.