Telephone Information & Referral Line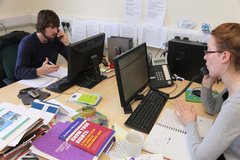 FLAC runs a telephone information and referral line offering basic legal information to the public.
Lo-Call 1890 350 250
or
01-8745690
The information line team provide basic legal information only, and cannot give legal advice over the phone. 
As our face to face clinics are currently shut due to the Covid-19 pandemic, FLAC have organised phone legal advice clinics in response to the urgent need for legal advice. This service is a free confidential service that provides first stop, basic legal information, advice and referral and is delivered by FLAC volunteer lawyers. Appointments will be made on a needs and availability basis. Please contact our Telephone Information line for more information on 01-8745690 or 1890 350 250. Our phoneline staff will direct you to the services you need.
In some cases, you may be referred to another voluntary body or state service.
Due to the ongoing Covid-19 pandemic and the increased demand on our services FLAC is reducing our Telephone Information and Referral Line hours on an interim basis from Monday 11th May.
We are taking this step to ensure that the quality of our service can be maintained during this crisis.
Our phoneline will now operate Monday to Friday from 9.30am-1pm. We will also host an additional phone line information service on Monday evenings from 7-9pm for callers who cannot call during the morning.