Become a volunteer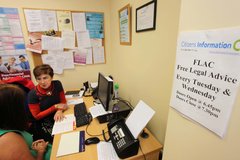 FLAC has always depended on the dedication of its volunteers who are involved with our work in many ways and share FLAC's passion for making law more accessible. FLAC volunteers support some of the most disadvantaged people in our communities and assist them to realise their right to access to justice.
If you are interested in joining us in widening access to justice, we would be delighted to hear from you! This is how you can get involved:
You can become a volunteer advisor in one of the Free Legal Advice Clinics around Ireland - you can read more about what to expect. Please note FLAC volunteer advisors must be fully qualified solicitors or barristers. To see where we recruit for, please see below. 


You can volunteer with the PILA (Public Interest Law Alliance) Pro Bono Referral Scheme. PILA is a project of FLAC that connects social justice organisations with free legal expertise. Law firms and lawyers provide much-needed assistance by helping NGOs with ad hoc legal advice, public interest litigation support, Law Reform Working Groups, legal education sessions or more sustained pro bono projects. Read more on the PILA website.
Please note that we are not in a position to take on law students. If you are a law student and are interested in volunteering, you may be able to get involved with one of the student FLAC societies.
FLAC is committed to its volunteers and intends to carry out the highest level of best practice in every aspect of volunteer management. If you are interested in volunteering with FLAC, check out our Volunteer Registration form. You can also call us at 01-887 3600 or e-mail us. Please get in touch!
We are recruiting for volunteer advisors now!
FLAC is seeking solicitors and barristers fully qualified to practise in Ireland to become volunteer advisors at FLAC clinics in:
Dublin:
Balbriggan 
Ballymun
Finglas 
Swords
Ballyfermot
Blanchardstown
Clondalkin
Lucan
Tallaght
Special focus clinics: Family Law Clinics
Meath Street Family law
Aungier Street Family Law
Outside of Dublin:
Carlow: Carlow town
Cavan: Cavan town
Clare: Ennis, Shannon
Cork: Bantry, Mallow, Youghal, Charleville
Donegal: Letterkenny
Galway: Clifden, Rosmuc, Galway city
Kerry: Tralee
Kildare: Naas, Newbridge
Laois: Portlaoise
Leitrim: Carrick-on-Shannon
Louth: Dundalk
Mayo: Castlebar, Ballina
Meath: Ashbourne, Navan
Monaghan: Monaghan town
Offaly: Tullamore
Roscommon: Boyle, Roscommon town
Tipperary: Nenagh 
Waterford: Dungarvan, Waterford city
Wexford: Wexford town
Wicklow: Wicklow town, Blessington,
Special focus clinics: Immigration Law Clinics
We are looking for immigration law volunteer advisors with extensive experience in immigration law in Galway City.
Volunteer advisors provide first-stop legal information and advice to the members of the public in the clinics one evening per month. FLAC advisors don't take on cases for callers, do not act or write letters on callers' behalf, and do not give second opinions. If callers need further assistance after their FLAC session, they may be referred on to another appropriate agency. Support is provided by the local Citizens Information Centre and FLAC, and Free CPD training is available to volunteers.
If you are interesed in volunteering, please fill in the online registration form or get in touch by phoning 01 8873600.
Thank you - we look forward to working with you on promoting access to juctice!