About Volunteering
FLAC depends heavily on the work of volunteers. The majority of volunteers are qualified barristers and solicitors who maintain the network of legal advice centres.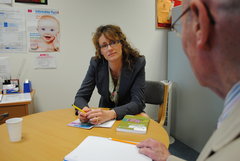 Volunteering for Legal Advice Centres
FLAC is reliant on volunteers to staff its network of evening Legal Advice Centres. Our centres operate out of Citizens Information Centres (CICs), run by the Citizens Information Board a statutory body within the remit of the Department of Social Protection.
What type of legal work will I do?
FLAC volunteers give private consultations to members of the community who can not afford to engage a private solicitor. Their role is to assist clients to see if they have a problem to which there may be a legal solution and explain what options are open to them and where they may obtain further assistance.
No casework is taken on by our Centres and no files or notes are kept. We are unable to act on behalf of our clients, or write letters on their behalf. Volunteers may, however, assist clients to draw up their own correspondence and advise them of the best way to draft simple legal documents.
What areas of law are involved?
We see legal queries of any type, but we are not able to guarantee that our volunteers will have expertise in all areas of law. Thus for very specialised queries FLAC cannot provide assistance, but will refer callers to an appropriate agency. In some instances, this may be to the state-funded legal aid agency, the Legal Aid Board.
For which centre should I volunteer?
FLAC has an ongoing need for volunteers who are qualified to practice law in Ireland. As far as possible, FLAC seeks to place volunteers in centres convenient to their own location:
In Dublin there are 23 centres situated all over the city, including two specialist language centres (in the DeafHear centre and in Conradh na Gaeilge) and there are a number of centres dealing with specialist topics, such as the Immigration Legal Advice Centre and the Family and Employment Law FLAC.

Outside Dublin there are 50 centres. You can find more information on centres in the services section of our website. Some centres are rostered by the local Citizens Information Centre rather than by FLAC directly.
Opportunities to volunteers arise from time to time in all locations. Please go the Legal Advice Centres page and select your area from the list to find the centre nearest you. You should contact us to find out more.
Other opportunities
From time to time FLAC requires volunteers in an administrative or research capacity to help with our campaigning work, which does not demand legal qualifications but which provides invaluable support for our work. These volunteering opportunities will be posted here as they arise. At the moment we have reached our capacity to take on volunteers to be assistants in our legal advice centres as well as for adminstrative work, but please do check back in the future!

Keep in touch with FLAC on Facebook too!