FLAC presents to Oireachtas Finance Committee on mortgage arrears measures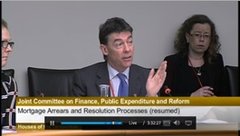 Paul Joyce presenting to JOC Finance Committee re mortgage arrears, 2 April 2014
With a number of other organisations advocating for people facing severe mortgage arrears, FLAC was invited to present to the Joint Oireachtas Committee on Finance, Public Expenditure & Reform on 2 April 2014, specifically addressing the' Resolution Process for Mortgage Arrears'.
Director General Noeline Blackwell and Senior Policy Analyst Paul Joyce outlined serious concerns around how the state and credit institutions are tackling the intractable problem of mortgage arrears. They covered such issues as reduced protections for borrowers under the revised CCMA/ Mortgage Arrears Resolution Process, services to assist borrowers in financial difficulty and the growing and very real threat of repossession.
You can read the submission FLAC made to the Committee in PDF format. 
Using law to challenge injustice: PILA conference
L-R: Noeline Blackwell, Peter Ward SC, Justice Albie Sachs, Minister Joan Burton TD. Photo by Derek Speirs
On Friday 28 March FLAC's PILA project  hosted a full-day public interest law conference in Dublin's Radisson Hotel with the aim of showcasing different ways to challenge injustice using legal means. Former South African Constitutional Court Justice Albie Sachs was keynote speaker and the event featured debates and workshops on a range of topics to identify practical ways of using law for NGOs and campaigners. Minister for Social Protection, Joan Burton TD opened the conference. 
We will shortly have a full range of photos, footage and interviews from the conference available to view online - some are already available on the PILA site. Tune in for updates!
Major report says consumers need proper legal protections
Cover image for Redressing_the_Imbalance
FLAC has launched a major report on how people in Ireland are not adequately protected when it comes to obtaining credit and other financial services.
Redressing the Imbalance critically examines the legal protections available to consumers of credit and other financial services in Ireland. It identifies a number of deficiencies and gaps in how such protections are provided.  It also suggests that a systemic approach has evolved which has consistently served to prioritise the interests of financial service institutions over those of consumers. The report provides a detailed account of how European-level developments, piecemeal domestic legislation and selective financial regulation have combined to leave many consumers of financial service in Ireland – in particular consumers of credit and distressed mortgage borrowers – particularly exposed. Drawing on the experiences of consumers and their advocates, the study further highlights how such exposure can be compounded by difficulties accessing and using mechanisms ostensibly designed to facilitate the resolution of complaints against providers. The report concludes with a series of recommendations as to how these flaws in the legal infrastructure might be redressed from a financial service user perspective.
You can read our press release and download the full report or the Executive Summary in PDF format. 
New video resources on court procedures
FLAC has  launched a new series of videos  explaining how the Irish courts work. These basic video guides are available to view on  FLAC's YouTube channel  and cover issues like appearing in court and the structure of the courts system as well as legal terminology and documents.
You can  watch the videos on our news page  or go straight to our  YouTube channel  to view the three clips.The series was launched at F LAC's 7th annual Dave Ellis Lecture  given by Martin O'Brien of the Atlantic Philanthropies on 5 December 2013.