New video resources on court procedures
FLAC has launched a new series of videos explaining how the Irish courts work. These basic video guides are available to view on FLAC's YouTube channel and cover issues like appearing in court and the structure of the courts system as well as legal terminology and documents.
You can watch the videos on our news page or go straight to our YouTube channel to view the three clips.The series was launched at FLAC's 7th annual Dave Ellis Lecture given by Martin O'Brien of the Atlantic Philanthropies on 5 December 2013. 
FLAC marks Human Rights Week 2013 with web calendar and annual lecture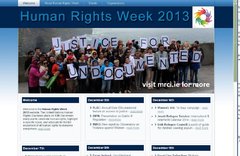 United Nations Human Rights Day takes place on 10 December every year to celebrate human rights, highlight a specific issue, and advocate for the full enjoyment of all human rights by everyone everywhere. The date was chosen to honour the adoption of the Universal Declaration of Human Rights by the  United Nations on 10 December 1948. 
FLAC has created a pop-up site to showcase events going on around Ireland to celebrate human rights, in a calendar format from 5 to 15 December, showing how diverse and important human rights are to people countrywide. It also shows the array of organisations working for human rights in this country. Our own event to mark this important period is the annual Dave Ellis Memorial Lecture on 5 December.
 Please share the information on the various events and campaigns - and don't forget to use the hashtag - #hrweek2013
New bankruptcy regime now operational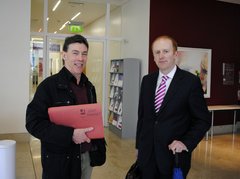 Paul Joyce, FLAC Senior Policy Analyst and Lorcan O'Connor, ISI Director
On 3 December 2013, the Minister for Justice and Equality is expected to sign a regulation that will start a new regime for bankruptcy in Ireland. 
The main changes are:
 Discharge period will be down from 12 (or even 20) years to 3 years.
A person must be insolvent with debts exceeding assets of €20,000 or more.
A person will be able to apply for their own bankruptcy but only if they have first considered a personal insolvency arrangement or debt settlement arrangement
 Creditors will still be able to apply to bankrupt a person if the debt owed is over €20,000.
A feature of the new rules will allow for an order to be made where a bankrupt person will have to pay income to creditors for 5 years. If this order is made at the end of the bankruptcy, the bankrupt may be paying creditors for up to 8 years.
Bankruptcy will still be a painful, messy affair with costs to meet.
A comprehensive information guide is available on the official website of the Insolvency Service of Ireland as well as some bankruptcy case studies.
Anyone requiring basic legal information can contact our lo-call telephone information line or drop into a FLAC centre for more detailed help.
For those in mortgage arrears, FLAC has prepared a new guide which will take people through the mechanisms available up to insolvency. The guide, which is free to download from the FLAC website as a PDF, suggests how borrowers might use the Code of Conduct on Mortgage Arrears and other options open to them. Alongside this guide, you can also view materials from our info session in May on 'Moving out of personal debt' which covered insolvency and bankruptcy as well. 
Legal rights groups react to Social Welfare and Pensions Bill
Cover image for 2013 SW&P Bill Joint FLAC NCLC submission_Final
FLAC and Northside Community Law and Mediation Centre have today (24 October) released a joint submission on the Social Welfare and Pensions Bill 2013.
The submission highlights the concerns of both organisations in relation to proposed changes to Mortgage Interest Supplement (MIS) and the recovery of certain benefits and assistance by the Department of Social Protection.
FLAC and NCLC are equally disappointed at the lack of proper time for consideration and debate on matters of fundamental importance to people who were not consulted in the lead up to the budget.
The joint submission is available to download as a PDF from FLAC's website.