Moving out of personal debt - FLAC information session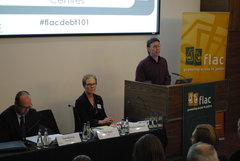 Paul Joyce addressing attendees at FLAC info session on 'Moving out of Personal Debt', 16 May 2013. also pictured are Noeline Blackwell as Chair and Tom Murray, Partner with Friel Stafford who also presented.
On Thursday 16 May, FLAC hosted an information session on how to use the new legal infrastructure around personal debt and insolvency. Entitled 'Moving out of Personal Debt: How to use the new legal infrastructure on personal debt and insolvency', the event provided an overview of existing and newer infrastructure around personal debt and insolvency, from mortgage arrears to full bankruptcy. It also looked at the current structures from a consumer perspective.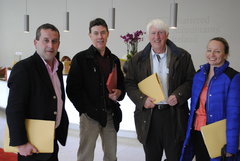 Speakers included Lorcan O'Connor, Director of the Insolvency Service of Ireland; Christopher Lehane, Official Assignee in Bankruptcy; Colette Bennett, Project Development Manager, MABS; Paul Joyce, Senior Policy Analyst, FLAC; and Tom Murray, Partner, Friel Stafford. There were two lively Q&A sessions and FLAC Director General Noeline Blackwell chaired the event.  Video clips of the individual inputs will be available on the FLAC website shortly. You can also download presentations from the speakers and read more about the event. We live-tweeted on the day under #flacdebt101
Revising the code of conduct for banks on mortgage arrears
The Central Bank is in the process of revising its current Code of Conduct on Mortgage Arrears - a very important tool for borrowers, as it governs how banks must deal with customers in mortgage arrears on their family homes. It has put together a consultation paper and has invited submissions from interested parties.
The deadline for submissions on the review of the Code has elapsed. FLAC has prepared a set of 14 recommendations which you can read on our site. (There is also a handy summary document of our recommendations available). However, anybody who wishes to engage with the consulation may direct their proposals to the Central Bank at code@centralbank.ie - and please feel free to use our submission for information.
FLAC wins Pro Bono and Public Interest Team/Lawyer of the Year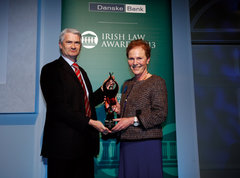 Presenting FLAC Director General Noeline Blackwell with the 2013 Law Award for Probono/Public Interest Team of the Year is Brian O'Neill of Documatics who sponsored the award in this category.
We are delighted to announce that FLAC have been named Pro Bono & Public Interest Team \ Lawyer of the Year at the Danske Bank Irish Law Awards 2013. FLAC was honoured to have been nominated alongside some outstanding teams and individual lawyers. Thank you to all FLAC's volunteers, supporters, staff, board members and interns for their ongoing dedication to access to justice issues.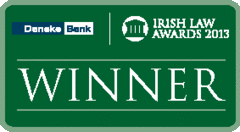 In its second year, the annual awards ceremony took place on Friday, 3 May, hosted by current affairs broadcaster Miriam O'Callaghan. The Awards recognise the achievements and work of leading law firms, legal practitioners and in-house legal teams across Ireland. Congratulations to all the award winners!

New proceedings issued in transgender rights case
Cover image for Foy case_Briefing Note_Feb 2013
FLAC has issued new proceedings on behalf of its client, Ms Lydia Foy, who won an historic victory in the High Court five years ago in her bid for recognition of her gender identity. Despite this victory and despite reassurances from the state that legislation would follow to provide for legal recognition of transgender persons in Ireland, there has been no progress on the issue since the publication of a report on gender recognition in 2011. Read more about the new legal proceedings in our press release and find out about the background and context for the Foy case in our updated briefing note.