Time to reform social welfare appeals system
24 October 2012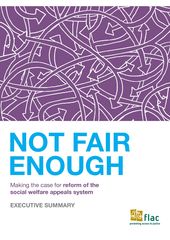 Legal rights group FLAC today released a report recommending root-and-branch reform of the country's system for handling social welfare appeals. Ombudsman Emily O'Reilly launched the report, entitled 'Not Fair Enough', along with a trio of factual guides on various aspects of the social welfare system, in Dublin's Mansion House. The organisation says the report comes at a time when the workings  of the social welfare system have become extremely relevant in  the lives of a growing number of people.
FLAC's report describes a list of concerns about social welfare appeals, including lengthy delays in decisions and the Appeals Office's lack of independence. It also highlights inadequate consistency and transparency in decision-making and access to legal advice and representation for appellants.
Alongside a legal analysis of the appeals system based on human rights principles, 'Not Fair Enough' features a survey of advocates who help people to make appeals. It concludes with a suite of recommendations  to government and decision makers within the social welfare system for reform.
Launching the report, the Ombudsman, Emily O'Reilly, drew particular attention to the importance for social welfare appellants of having the opportunity to make their case at an oral appeal hearing. "As set out in the report, the success rate for appeals which include an oral hearing has been consistently higher than the success rate for appeals decided summarily. Unfortunately, as FLAC's report also shows, the proportion of appeal cases going to oral hearing has declined significantly in recent years with 59% having an oral hearing in 2009 as against just 35% in 2011," she said.


Chairing the launch, FLAC Director General Noeline Blackwell  said that the Appeals Office itself had reported 51,515 live or on-going appeals last year, with an average processing time per case of 32 weeks. "But where there is an oral hearing, the wait could be over a year.  What these delays mean is that people are not getting a payment to which they are entitled and that some will be at risk of destitution. If we take this along with other problems, like the lack of transparency and consistency in decision-making, it means the appeals system does not offer an effective remedy or a system that people can understand. " said Ms Blackwell.
Saoirse Brady, FLAC's Policy & Advocacy Officer, presented the report's main findings and recommendations. "Given the consistently high success rate on appeal, the appeals system is in need of urgent reform. Better decision-making at the first stage of application would mean claimants could access their rights and entitlements without unnecessary delay and stress. At the same time, administrators would achieve greater efficiency. In this current recession, resources should be targeted at those most in need rather than expended on unnecessary bureaucracy," she concluded. 
Alongside the report, FLAC launched three guides to aid the public in accessing social welfare: a Checklist for applying for a Social Welfare payment, a Guide to making a Social Welfare Appeal, and a Guide to the Habitual Residence Condition.
According to Ms Brady, "Members of the public are often at a disadvantage in applying for a payment or making an appeal because they do not have the same access to information as Department officials. They may have to deal with complex issues of law without legal advice or representation. While FLAC has produced guides to help people understand and navigate the system, we believe that people have the right to get the legal help and representation they need in a timely and effective way."
The report and guides are free to download from the FLAC website at www.flac.ie
 #notfairenough
/Ends
For more, please see the social welfare appeals reform page.