Direct Provision campaign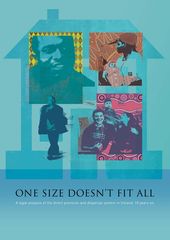 Cover image for One Size Doesn't Fit All_main report
Direct provision is a scheme whereby asylum seekers and people seeking other forms of protection are provided with accommodation on a full board basis with all their basic needs apparently provided for directly. Direct provision residents receive a weekly payment of €19.10 for an adult and €9.60 for a child.
In November 1999 direct provision and dispersal was introduced as a pilot scheme to alleviate a housing shortage in the Eastern Health Board area. In April 2000 it was implemented as a national scheme and ten years later it remains in place.
FLAC has opposed the direct provision and dispersal scheme since its inception.

Campaign Resources
Background: In 2003, FLAC published Direct Discrimination?, a report on the direct provision and dispersal system which concluded the system "is gravely detrimental to the human rights of a group of people lawfully present in the country and to whom the government has moral and legal obligations under national and international law". To mark the tenth anniversary of direct provision and dispersal, FLAC published One Size Doesn't Fit All: a legal analysis of the direct provision and dispersal system in Ireland, 10 years on. The main findings of the report and recommendations are also contained in an Executive Summary.
Arising out of One Size Doesn't Fit All, FLAC developed training with materials for people working with direct provision residents and to empower direct provision residents themselves. The one day session was held on 13 February 2012 and twenty-three participants attended the training, including representatives from national and regional NGOs and individuals including a small number of direct provision residents.
The training materials consist of three Powerpoint presentations which are intended to give people an understanding of the direct provision and dispersal system as well as the associated human rights instruments with a particular emphasis on the protection of economic, social and cultural rights. Government policy and opportunities for lobbying were also examined.

PowerPoint Presentations
A pack of materials was also provided to participants which included the following documents:

Human Rights Resources
Lobbying Resources
Complaints Procedures
NGO Materials
FLAC hopes that others will find these resources useful and use them in their work to end the direct provision system in the longer-term but while the system remains in place, that they can use this information to improve the situation of people living in direct provision accommodation.