21st century law needed for 21st century over-indebtedness!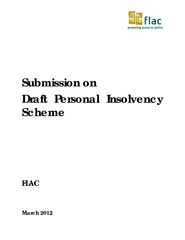 Cover image for Draft Personal Insolvency Scheme 2012 submission
Having become increasingly dependent on credit to organise their finances over the past fifteen years, Irish consumers are now facing a massive debt problem ata time of rising unemployment.Irish laws have not evolved to meet the rapidly changing landscape. The legal system itself has the same basic procedures since before the beginning of World War II. So we have a 21st century consumer credit market with a 19th century debt enforcement system.
FLAC is working to ensure that these laws are reformed, in order to provide consumers and their dependants with a dignified and effective way of dealing with debt that will be fair to the consumer, the creditor and the taxpayer alike. Comprehensive state-funded systems of money advice and civil legal aid are essential to ensure consumers have the support they need to address their situation.
Campaign Resources
You will find policy papers on debt in the publications section.There are also many related press releases around our credit and debt campaign.Finally, FLAC's in-house magazine, FLAC News, always features opinion pieces and articles on our debt campaign.
On 19 April 2012, FLAC held a conference on Legislating for personal insolvency in Ireland: International developments and domestic issues. You can download presentations from the following speakers (in powerpoint or word format), but note that we will have video clips of the event available shortly:
Other resources we have available are:
On 21 Sept 2012, FLAC commented on the ECB's Opinion re the Personal Insolvency Bill.
FLAC made an amended submission on the Personal Insolvency Bill to the Joint Oireachtas Committee on Justice in September 2012.
You can read FLAC's full submission on the draft scheme of personal insolvency law (from March 2012).
FLAC made a presentation on the draft scheme of personal insolvency law to the Joint Oireachtas Committee on Justice, Equality and Defence on 15 February 2012.
In January 2012 FLAC prepared an overview of debt settlement schemes from around Europe, based on the work of Professor Jason Kilborn of John Marshall School of Law, Chicago.
In October 2011 a group of individuals and organisations, FLAC among them, joined forces to present 9 key principles on personal debt.
In September 2011 FLAC did an analysis of the latest mortgage arrears figures from the Central Bank which showed worrying levels of increase in arrears.
We issued a Factsheet on the Code of Conduct on Mortgage Arrears in January 2011 which explains how the Code works in practice.
FLAC has issued a Checklist for Actions on Losing Your Job (updated in April 2011).
FLAC has also written to the Ministers for Justice and Finance suggesting short-term measures to tackle personal debt.
In December 2010, FLAC's Senior Policy Advisor Paul Joyce addressed the Law Reform Commission's Annual Conference on 'The Future of Debt Enforcement in Ireland'.
In response to the growing number of queries and mounting concern from our clients around mortgage arrears, in October 2009 FLAC issued an open letter to legislators calling for urgent action on the issue. In September 2009 FLAC's Senior Policy Researcher Paul Joyce spoke at the Law Reform Commission's launch of its consultation paper on Personal Debt Management and Debt Enforcement. The paper contained and endorsed many FLAC recommendations from its reports on debt issues.
FLAC published its report on debt enforcement in the Irish legal system, To No One's Credit, on 6 July 2009, as well as an Executive Summary. It also issued a briefing document on legislation to change the Enforcement of Courts Orders Acts 1926-1940.
On 24 April 2009, FLAC appeared at a session of the Joint Oireachtas Committee on Social and Family Affairs, to speak about levels & trends in personal debt in Irish society.
In May 2003, FLAC published a report on treatment of credit and debt in Irish law entitled An End Based on Means?. This report was well received by politicians, financial experts and money advisors. You can download a copy of the report or of the Executive Summary.
A follow-up conference in March 2004 brought together those who had responded to the report and presented them with various perspectives on the consumer debt situation in Ireland, as well as some international experiences. A summary of conference proceedings is available in print format only.
Take Action
Please contact us at campaigns@flac.ie if you feel you have been affected by the issues mentioned above.