FLAC's 50th Celebration
8 November 2019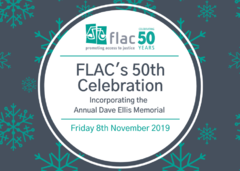 'FLAC's 50th Anniversary Celebration incorporating the Annual Dave Ellis Memorial' will be held on Friday 8 November 2019.
This promises to be a very special evening as we celebrate 50 years of working together to bring access to justice to those most in need. This evening is to thank all who have been associated with FLAC and have contributed to improving access to justice over the past 50 years.
Our guest of honour for the evening will be Mary Robinson, in conversation with journalist Doireann Ní Bhriain. The Former President of Ireland will reflect on her long history with FLAC and a career dedicated to human rights. We will also be having a look back at FLAC through the decades and will be joined by David Byrne, Eamonn Conlon, The Hon. Ms Justice Iseult O'Malley, Siobhan Phelan SC, Mel Cousins, Grainne O'Hara, Noeline Blackwell, Walter Walsh and Gerry Whyte.
We would like to thank all those at the heart of FLAC's work over the years: our founders, staff and volunteers, funders and civil society partners.
For further information or assistance contact Caroline Smith at events@flac.ie
Donations:
FLAC is proud of the impact we make, every day, using the law to help people and organisations. As a charity, we are reliant on the generosity of donors who believe that the law should be accessible to all – particularly those who are most vulnerable.
Our celebration event is free of charge as we want to bring together old friends and acknowledge the FLAC community that has supported our vision of a fair and just society over 50 years. However, as the funding environment gets increasingly challenging, we warmly welcome any donation that will allow us to continue to bring free legal support to over 25,000 people per year who otherwise could not afford it.
Find out more at https://www.flac.ie/donate/