The EU Charter and the ECHR: Practice and
18 October 2019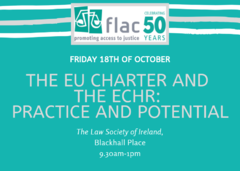 Save the date: Friday 18th of October
 The EU Charter and the ECHR: Practice and Potential
The Law Society of Ireland, Blackhall Place
FLAC is delighted to invite you to our half day conference on 'The EU Charter and the ECHR: Practice and Potential', to be held in The Law Society of Ireland Blackhall Place on Friday 18th October 2019.
The Conference will be chaired by Mary Finlay Geoghegan, former judge of the Supreme Court.
Confirmed speakers to date include:
Siofra O Leary, Judge of the European Court of Human Rights.
Mark Bell, Head of the School of Law; Regius Professor of Laws and a Fellow of Trinity College Dublin.
Marc Willers QC, Garden Court Chambers.
Michael Lynn SC.  
With a brief response from:
Sinead Lucey, FLAC Managing Solicitor.  
Siobhan Phelan SC.
EVENT:          The EU Charter and the ECHR: Practice and Potential
DATE:             Friday, 18th of October
TIME:              9.30am-1pm
VENUE:          The Law Society of Ireland, Blackhall Place
CPD:               2.5 Hours
Please RSVP at https://www.eventbrite.com/e/the-eu-charter-and-the-echr-practice-and-potential-tickets-73956434687
If you require sign-language interpretation or other assistance, please let us know as soon as possible so that we can make the appropriate arrangements.
The venue is wheelchair accessible.
For any queries please contact:
Caroline Smith, Media and Communications Officer - 01-887 3600  events@flac.ie
W: www.flac.ie  |  FB: fb.me/FLACIreland  |  T: @flacireland
Venue
The Law Society of Ireland, Blackhall Place