Tender for the Redevelopment of the FLAC Website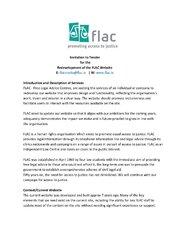 Download
Please note that this information is dated as of a specified time and may not be legally valid.

Summary
FLAC - Free Legal Advice Centres, are seeking the services of an individual or company to redevelop our website that improves design and functionality, reflecting the organisation's work, vision and mission in a clear way. The website should promote inclusiveness and facilitate users to interact with the resources available on the site.
FLAC need to update our website so that it aligns with our ambitions for the coming years, adequately demonstrates the impact we make and is future-proofed to grow in line with the organisation.