PILA Pro Bono Survey 2014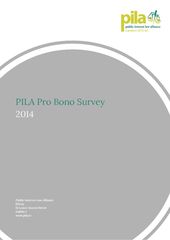 Download
Please note that this information is dated as of a specified time and may not be legally valid.

Summary
PILA Pro Bono Survey 2014
Published March 2015
One of the most remarkable developments in the practice of law over the past number of years has been the significant expansion of pro bono around the globe, not least in Ireland where PILA has been actively promoting it since 2009.
Across Ireland lawyers volunteer their time to pro bono work that gives back to their communities and improves access to justice for those who cannot afford it. In 2014, we asked solicitors, barristers and law students to participate in PILA's first national pro bono survey to provide insight into how much pro bono is happening around the country, while identifying factors that encourage or discourage pro bono service.
The survey specifically looks at the experience of individuals and therefore does not directly explore important questions around institutionalisation of pro bono, structured approaches to pro bono delivery or indeed the complex issue of how best to address the vast unmet legal need in Ireland.
The survey drew 464 responses in total from all but one county in Ireland; although PILA does recognise that the results are only able to offer a glimpse into some pro bono themes. The survey results are merely the start of an interesting conversation rather than authoritative data on national trends. This report does, however, reflect the legal profession's longstanding and ongoing commitment to pro bono legal services as a core value. We hope it will provide a stimulus for further discussion on current and future directions, and perhaps provide a yardstick by which to measure pro bono progress in Ireland.