PILN Bulletin 6 August 08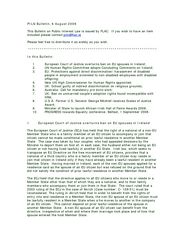 Download
Please note that this information is dated as of a specified time and may not be legally valid.

Summary
PILN Bulletin 6 August 08
In this issue:
1. European Court of Justice overturns ban on EU spouses in Ireland;
2. UN Human Rights Committee adopts Concluding Comments on Ireland;
3. EU: Protections against direct discrimination/ harassment of disabled people in employment extended to non-disabled employees with disabled offspring;
4. New UN High Commissioner for Human Rights appointed;
5. UK: School guilty of indirect discrimination on religious grounds;
6. Australia: Call for mandatory pro bono work;
7. UK: Ban on unmarried couple's adoption rights found incompatible with HRA;
8. US: Former Senator George Mitchell receives Scales of Justice Award;
9. Minister of State to launch African-Irish Hall of Fame Awards 2008;
10. PROGRESS towards Equality conference, Belfast, 1 September 2008.