PILN Bulletin, 23 July 2009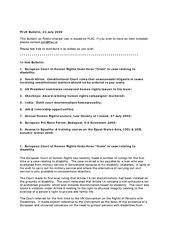 Download
Please note that this information is dated as of a specified time and may not be legally valid.

Summary
In this Bulletin:
1. European Court of Human Rights finds three "firsts" in case relating to disability;
2. South Africa: Constitutional Court rules that unsuccessful litigants in cases involving constitutional matters should no be ordered to pay costs;
3. US President nominates renowned human rights lawyer to his team;
4. Chechnya: Award-winning human rights campaigner murdered;
5. India: Dehli court decriminalises homosexuality;
6. Job & Internship opportunities;
7. Annual Human Rights Lecture, Law Society of Ireland, 27 July 2009;
8. European Pro Bono Forum, Budapest, 5-6 November 2009;
9. Access to Equality: A training course on the Equal Status Acts, ICCL & UCD, autumn/winter 2009.