PILA Bulletin, 4 November 2009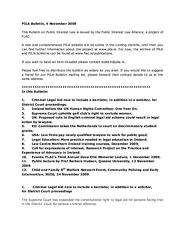 Download
Please note that this information is dated as of a specified time and may not be legally valid.

Summary
In this Bulletin:
1. Criminal Legal Aid now to include a barrister, in addition to a solicitor, for District Court proceedings;
2. Ireland before the UN Human Rights Committee: One Year On;
3. Supreme Court upholds golf club's right to exclude women;
4. UK: Proposed cuts to English criminal legal aid scheme could result in legal action by lawyers;
5. EU: Commission takes the Netherlands to court on discriminatory student grants;
6. USA: Law firms pay newly qualified lawyers to work for public good;
7. Legal Education: More practice needed in legal education in Ireland;
8. Law Centre Northern Ireland training courses, December 2009;
9. Call for expressions of interest, Research Project on the Practice and Experience of Advocacy in Ireland;
10. Events: FLAC's Third Annual Dave Ellis Memorial Lecture, 1 December 2009;
11. Public lecture by Prof Barbara Hudson, Queens University, 12 November 2009;
12. Child and Family 8th Welfare Network Event, Community Policing and Early Intervention, NUIG, 24 November 2009.