PILA Bulletin, 3 December 2009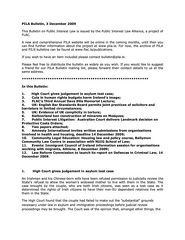 Download
Please note that this information is dated as of a specified time and may not be legally valid.

Summary
In this Bulletin:
1. High Court gives judgement in asylum test case;
2.Cuts in human rights budgets harm Ireland's image;
3.FLAC's Third Annual Dave Ellis Memorial Lecture;
4.UK: English Bar Standards Board permits joint practices of solicitors and barristers in limited circumstances;
5.UK: Evidence of UK complicity in torture;
6.Switzerland ban construction of minarets on Mosques;
7.Public Interest Litigation: Australian Court delivers Landmark decision on Protective Costs Orders;
8.Two papers attached by Michael Farrell and Martin O'Brien;
9.Amnesty International invites written submissions from organisations involved in health and housing, deadline 14 December 2009;
10.Community Legal Education: Housing law and policy course, Ballymun Community Law Centre in association with NUIG School of Law;
11.Events: Immigrant Council of Ireland information session for organisations working with migrants, Athlone, 8 December 2009;
12.Law Reform Commission to launch its report on Defences in Criminal Law, 14 December 2009.