PILA Bulletin, 28 January 2010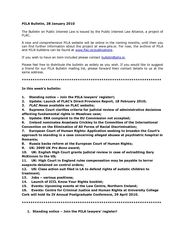 Download
Please note that this information is dated as of a specified time and may not be legally valid.

Summary
In this week's bulletin:
1. Standing notice – Join the PILA lawyers' register!;
2. Update: Launch of FLAC's Direct Provision Report, 18 February 2010;
3. FLAC News available on FLAC website;
4. Supreme Court clarifies criteria for judicial review of administrative decisions affecting fundamental rights in Meadows case;
5. Update: ERA complaint to the EU Commission not accepted;
6. Ireland nominates Anastasia Crickley to the Committee of the International Convention on the Elimination of All Forms of Racial Discrimination;
7. European Court of Human Rights: Application seeking to broaden the Court's approach to standing in a case concerning alleged abuses at psychiatric hospital in Romania;
8. Russia backs reform at the European Court of Human Rights;
9. UK: 2009 UK Pro Bono award;
10. UK: English High Court grants judicial review in case of extraditing Gary McKinnon to the US;
11. UK: High Court in England rules compensation may be payable to terror suspects detained on control orders;
12. US: Class action suit filed in LA to defend rights of autistic children to treatment;
13. Jobs – various positions;
14. Launch of ICCL Know Your Rights booklet;
15. Events: Upcoming events at the Law Centre, Northern Ireland;
16. Events: Centre for Criminal Justice and Human Rights at University College Cork will hold its IV Annual Postgraduate Conference, 29 April 2010.