PILA Bulletin, 25 September 2009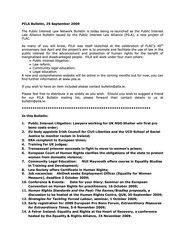 Download
Please note that this information is dated as of a specified time and may not be legally valid.

Summary
In this Bulletin:
1. Public Interest Litigation: Lawyers working for UK NGO Shelter win first pro bono costs order;
2. EU body appoints Irish Council for Civil Liberties and the UCD School of Social Justice to monitor racism in Ireland;
3. ERA complaint to European Union;
4. Training for UK judges;
5. Transsexual prisoner succeeds in fight to move to women's prison;
6. European Court of Human Rights clarifies the obligations of the state to protect women from domestic violence;
7. Community Legal Education: NUI Maynooth offers course in Equality Studies in Training and Development;
8. Law Society offers Certificate in Human Rights;
9. Job vacancies: AkiDwA seeks Employment Officer (Equality for Women Measure), deadline 2 October 2009;
10. Conference & Events: Date for your Diary: Seminar on the European Convention on Human Rights for practitioners, 16 October 2009;
11. Human Rights Standards and the Past: The Eames/Bradley proposals, a discussion to be hosted at the Human Rights Centre, QUB, 30 September 2009;
12. Strategies for Tackling Forced Labour, seminar, 1 October 2009;
13. Early registration for 2009 European Pro Bono Forum, Extraordinary Measures for Extraordinary Times, 5-6 November 2009;
14. A Fairer Ireland: Equality and Rights at the Heart of Recovery, a conference hosted by the Equality & Rights Alliance, 24 November 2009.