PILA Bulletin, 25 June 2010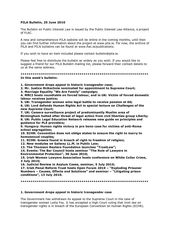 Download
Please note that this information is dated as of a specified time and may not be legally valid.

Summary
In this week's bulletin:
Government drops appeal in historic transgender case;
Mr. Justice McKechnie nominated for appointment to Supreme Court;
Marriage Equality "We Are Family" campaign;
MRCI hosts roundtable on forced labour, and in UK: Victim of forced domestic labour receives justice;
UK: Transgender woman wins legal battle to receive pension at 60;
UK: Lord defends Human Rights Act in special lecture on Challenges of the new Supreme Court;
UK: Camera surveillance project of predominantly Muslim area of Birmingham halted after threat of legal action from civil liberties group Liberty;
UK: Public Legal Education Network releases new guide on principles and guidance for PLE providers;
Hungary: Human rights victory in pro bono case for victims of anti-Roma school segregation;
ECHR: Convention does not oblige states to ensure the right to marry to homosexual couples;
ECHR: Greece found in breach of right to freedom of religion;
New modules on Galway LL.M. in Public Law;
The Thomson Reuters Foundation launches "TrustLaw";
Events: The Bar Council hosts seminar "The Role of Lawyers in Environmental Protection", 30 June 2010;
Irish Women Lawyers Association hosts conference on White Collar Crime, 3 July 2010;
Judicial Review in Asylum Cases, seminar, 5 July 2010;
Irish Penal Reform Trust hosts Open Forum 2010 - "Exploding Prisoner Numbers - Causes, Effects and Solutions" and seminar - "Litigating prison conditions", 13 July 2010.