PILA Bulletin, 21 October 2009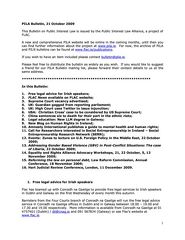 Download
Please note that this information is dated as of a specified time and may not be legally valid.

Summary
In this Bulletin:
1. Free legal advice for Irish speakers;
2. FLAC News available on FLAC website;
3. Supreme Court vacancy advertised;
4. UK: Guardian gagged from reporting parliament;
5. UK: High Court uses Twitter to issue injunction;
6. USA: Christian Cross' case to be considered by US Supreme Court;
7. China sentences six to death for their part in the ethnic riots;
8. Legal education: New LLM degree in Galway;
9. New Blog on Human Rights in Ireland;
10. Amnesty International publishes a guide to mental health and human rights;
11. Call for Researchers interested in Social Entrepreneurship in Ireland – Social Entrepreneurship Research Network (SERN);
12. Events: Zunes to lecture on U.S. Foreign Policy in the Middle East, 22 October 2009;
13. Addressing Gender Based Violence (GBV) in Post-Conflict Situations: The case of Liberia, 22 October 2009;
14. Equality and Rights Alliance Advocacy Workshops, 21, 22 October, 5, 12 November 2009;
15. Reforming the law on personal debt, Law Reform Commission, Annual Conference, 18 November 2009;
16. Hart Judicial Review Conference, London, 11 December 2009.