PILA Bulletin, 19 March 2010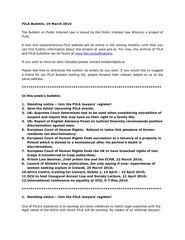 Download
Please note that this information is dated as of a specified time and may not be legally valid.

Summary
In this week's bulletin:
1.Standing notice – Join the PILA lawyers' register!
2.Save the dates! Upcoming PILA events;
3.UK: Supreme Court determines test to be used when considering extradition of suspect and impact this may have on their right to a family life;
4.UK: Report of English Advisory Panel on Judicial Diversity recommends positive discrimination against men;
5.European Court of Human Rights: Refusal to index-link pensions of former residents not discriminatory;
6.European Court of Human Rights finds succession to a tenancy of a property in Poland which is denied to a homosexual after his partner's death is discrimination;
7.European Court of Human Rights finds the UK to have breached rights of two Iraqis it transferred to Iraqi authorities;
8.Prison Law Seminar, Irish prison law and the ECHR, 22 March 2010;
9.Launch of Akiwda's new publication, Am only saying it now- experiences of women seeking asylum in Ireland, 25 March 2010;
10.Africa Centre, training for trainers, Dublin 1, 14 April – 22 April 2010;
11.DCU to host Inaugural Annual Law and Society Lecture, 21 April 2010;
12.International conference on equality at UCD, 5-7 May 2010.