PILA Bulletin, 14 January 2010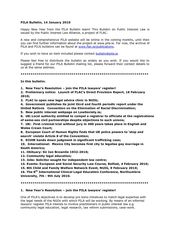 Download
Please note that this information is dated as of a specified time and may not be legally valid.

Summary
In this bulletin:
1. New Year's Resolution – join the PILA lawyers' register!
2. Preliminary notice: Launch of FLAC's Direct Provision Report, 18 February 2010;
3. FLAC to open new legal advice clinic in NUIG;
4. Government publishes its joint third and fourth periodic report under the United Nations Convention on the Elimination of Racial Discrimination;
5. New public interest webpage on LawSociety.ie;
6. UK: Local authority entitled to compel a registrar to officiate at the registrations of same-sex civil partnerships despite her objections to such unions;
7. UK: First criminal trial without jury in 400 years takes place in English and Wales Crown Court;
8. European Court of Human Rights finds that UK police powers to 'stop and search' violate Article 8 of the Convention;
9. ECtHR hands down judgment in significant trafficking case;
10. International: Mexico City becomes first city to legalise gay marriage in South America;
11. Obituary: Sir Ian Brownlie 1932-2010;
12. Community legal education;
13. Jobs: Solicitor sought for independent law centre;
14. Events: European and Social Security Law Course, Belfast, 4 February 2010;
15. 8th Child and Family Welfare Network Event, NUIG, 9 February 2010;
16. The 8th International Clinical Legal Education Conference, Northumbria University, 7th - 9th July 2010.