PILA Bulletin, 1 April 2010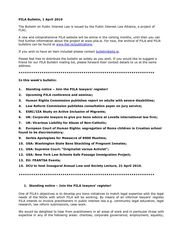 Download
Please note that this information is dated as of a specified time and may not be legally valid.

Summary
In this week's bulletin:
Standing notice – Join the PILA lawyers' register!
Upcoming PILA conference and seminar;
Human Rights Commission publishes report on adults with severe disabilities;
Law Reform Commission publishes consultation paper on jury service;
ESRI/IZA Study on Active Inclusion of Migrants;
UK: Corporate lawyers to give pro bono advice at Lovells international law firm;
UK: Vicarious Liability for Abuse of Non-Catholic;
European Court of Human Rights: segregation of Roma children in Croatian school found to be discriminatory;
Serbia Apologises for Massacre of 8000 Muslims;
USA: Washington State Bans Shackling of Pregnant Inmates;
USA: Supreme Court: "Originalist versus Activist";
USA: New York Law Schools Safe Passage Immigration Project;
EU: FEANTSA Events;
DCU to host Inaugural Annual Law and Society Lecture, 21 April 2010.