Legal info leaflet: Enduring Power of Attorney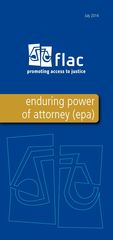 Download
Please note that this information is dated as of a specified time and may not be legally valid.

Summary
Legal info leaflet: Enduring Power of Attorney
Issued in July 2014
April 2016: Please note the law on EPAs will shortly change. Please keep an eye on our website or follow FLAC on Twitter or Facebook for updates.