FLACsheet: Top-up loans from licensed moneylenders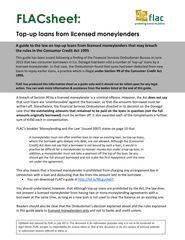 Download
Please note that this information is dated as of a specified time and may not be legally valid.

Summary
A guide to the law on top-up loans from licensed moneylenders that may breach the rules in the Consumer Credit Act 1995.
This guide has been issued following a finding of the Financial Services Ombudsman Bureau in June 2015 that two consumer borrowers in Co. Donegal had been sold a number of 'top-up' loans by a licensed moneylender. In that case, the Ombudsman found that sums had been deducted from new loans to repay earlier loans, a practice which is illegal under Section 99 of the Consumer Credit Act 1995.
You can also read FLAC's guide to Moneylending & the Law.