FLAC News 24(1) Jan-Mar 2014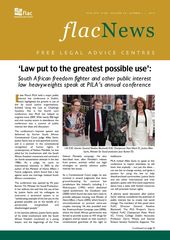 Download
Please note that this information is dated as of a specified time and may not be legally valid.

Summary
FLAC News 24(1) Jan-Mar 2014.
In this issue: PILA conference, launch of consumer credit report, trends in civil legal aid, shadow report on economic, social and cultural rights, and much more!