FLAC News 19(3) Jul-Sep 2009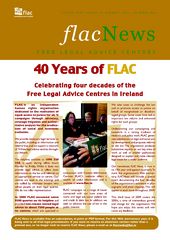 Download
Please note that this information is dated as of a specified time and may not be legally valid.

Summary
FLAC News 19-3 July-September 2009. This issue features an analysis of the proposed means testing of criminal legal aid by the Minister of Justice, Equality and Law Reform, the case for coordinated action to protect borrowers, and the response of US States to predatory lending. It also covers details of FLAC's submissions to the European Commission on responsible lending and borrowing.
Elsewhere, the newsletter presents a round-up of FLAC's latest casework and law reform work: including important developments in social welfare law; reports on the volunteer legal advice centre in Clondalkin; and a complaint by the Equality Rights Alliance (ERA) to the European Commission on the savage cuts to equality and human rights bodies in Ireland; and the latest information on FLAC's new project, the Public Interest Law Alliance (PILA).
Concluding our retrospective marking the 40th anniversary of FLAC's founding, the current issue of FLAC News looks to the period from the year 2000 to the present, featuring photos and clippings from our archives.