FLAC News 18(2) April-June 2008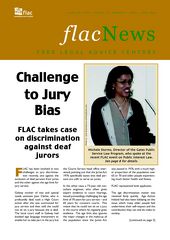 Download
Please note that this information is dated as of a specified time and may not be legally valid.

Summary
FLAC News Vol. 18, Issue 2, April-June 2008.

In this issue: civil legal aid, the recent case on discrimination against deaf people becoming jurors, the June Public Interest Law seminar, FLAC volunteer training, a reduction in social welfare provision for asylum seekers, a summary of the recent case in Donegan vs DCC & Attorney General, BCLC & regeneration, FLAC's presentation on Direct Provision to the Combat Poverty Agency, the Thomas Addis Emmet Fellowship award for 2008, legal aid in Germany, trade unions for Argentinian prison workers, and more...