DLA Briefings Article: CT & FE v Dunnes Stores Company Unlimited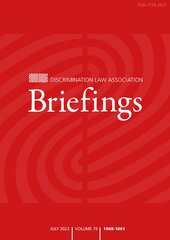 Download
Please note that this information is dated as of a specified time and may not be legally valid.

Summary
A report on the recent significant Circuit Court discrimination judgment against Dunnes Stores by FLAC Legal Officer, Christopher Bowes, has been published in Briefings, the UK Discrimination Law Association journal. FLAC acted for the two Roma women who took the case. 
The editorial to the issue comments on the significance of the judgment and its potential positive impact for the Roma community.