Civil Legal Aid FLACsheet
Shorter version of FLACsheet on civil legal aid in Ireland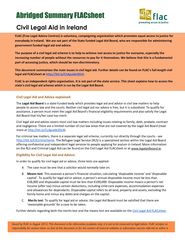 Download
Please note that this information is dated as of a specified time and may not be legally valid.

Summary
Civil Legal Aid FLACsheet, updated August 2015.
You can download a more detailed Guide to Civil Legal Aid which contains information on the civil legal aid system, eligibility and application procedure, cost of civil legal aid, termination of legal aid, how to appeal decisions, the difference between FLAC and the Legal Aid Board, cross-border civil legal aid and making a complaint in the legal aid system.