Lydia Foy receives European Citizen's Prize 2015
14 October 2015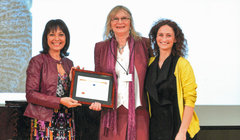 Dr Lydia Foy has today (Weds 14 Oct) become the first transgender Irish person to be honoured by the European Parliament.  She has been awarded the Parliament's highly prestigious Citizen's Prize in recognition of her courageous campaign for the rights of Transgender persons in Ireland. Dr Foy is the sole Irish recipient in 2015.
Lydia Foy said it was a huge honour to receive this award from the Parliament, representing the 28 countries of the European Union.  She was proud that Ireland has this year given a lead to the rest of Europe on LGBT issues, with the marriage referendum in May and the passing of gender recognition law in July.
Dr Foy's 22-year legal battle to obtain her birth certificate led directly to the recent passage of the Gender Recognition Act, which allows Trans people in Ireland to obtain a new birth certificate in their true gender and has put Ireland at the forefront of progressive nations on Trans rights.
Following the passage of the Act in July, Lydia Foy obtained the first Gender Recognition Certificate to be issued in Ireland and finally received her new birth certificate last month. The EU Parliament chose Dr Foy for this tribute in June and she was presented with a Medal of Honour from the Parliament on 25 September in Dublin.
She was presented with the Citizen's Prize, together with 47 people from around the European Union, by Vice President of the EU Parliament, French MEP Mdme Sylvie Guillaume, at the Parliament Building in Brussels on 14 October.
Lydia was nominated for this important honour by Sinn Fein MEPs Martina Anderson, Lynn Boylan, Matt Carthy and Liadh Ni Riada, who also attended the celebration, and she was chosen to receive it by a committee representing the whole EU Parliament.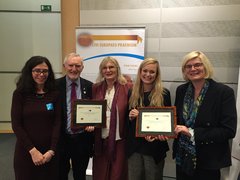 Throughout her case, Lydia was represented by legal rights group FLAC (Free Legal Advice Centres). FLAC Senior Solicitor Michael Farrell and other FLAC staff attended the event along with representatives of Transgender Equality Network Ireland (TENI) which ran a highly effective political and awareness-raising campaign for Trans recognition alongside Lydia's legal case.
Mr Farrell said the award was a fitting tribute to Lydia Foy's courage and persistence for the last 22 years.  "Lydia Foy had fought a lonely battle to save a new generation of Trans people from the hardships suffered by her generation," he said. "The award is also an acknowledgement by the European Parliament of all those who had campaigned for LGBT rights in Ireland for so many years and who had this year set an example of tolerance and diversity for our European partners," said Mr Farrell.
/ENDS