Lydia Foy wins European Citizens prize
4 June 2015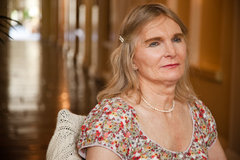 Update: Lydia Foy wins European Citizens prize
FLAC (Free Legal Advice Centres)  welcomes the award of the prestigious European Citizens Prize for Ireland to Dr Lydia Foy to honour her 22-year struggle for legal recognition in her female gender and for the right of all Transgender persons in Ireland to recognition in their preferred/true gender.
The European Citizens Prize is awarded each year to individuals or groups in each European country for exceptional achievements in promoting social integration and European values. 
Lydia Foy has been honoured for raising awareness of the hardship and suffering experienced by the Transgender community in Ireland and for bringing about the introduction of the Government's Gender Recognition Bill, which will finally provide long overdue recognition of Transgender persons. 
It is particularly fitting that Dr Foy should be awarded this prize on the day when the Government announced the amendment of the Gender Recognition Bill to remove two clauses which were resisted by the Trans community, thus making it much more acceptable to that community.
Dr Foy was nominated for the European Citizens Prize by Dublin MEP Lynn Boylan and supported by her three Sinn Fein colleagues.  She was represented throughout her 18-year legal battle by FLAC.
/ENDS
Editors' notes:
FLAC (Free Legal Advice Centres) is a human rights organisation which exists to promote equal access to justice for all. FLAC is an NGO that relies on a combination of statutory funding, contributions from the legal professions and donations from individuals and grant-making foundations to support its work.
FLAC offers basic legal information through its telephone information line (1890 350 250) and free legal advice through its network of 80 volunteer evening advice centres – more at www.flac.ie/help/.  It also campaigns on a range of issues including consumer credit, personal debt, fairness in social welfare law, public interest law and civil legal aid.
The Gender Recognition Bill 2014 is on the Oireachtas website at http://bit.ly/1wKqeIe  and a statement from the Department is at http://bit.ly/1w5BUjv .
More information o the European Citizens Prize is at http://www.europarl.europa.eu/news/en/news-room/content/20150604STO62606/html/European-Citizen's-Prize-honouring-engaged-Europeans
You can download a comprehensive briefing note on the Foy case (Feb 2013) at http://www.flac.ie/publications/foy-case-briefing-note-feb-2013/.  A press release on the settlement of her second case in October 2014, based on the government's pledge to introduce a Transgender Recognition Bill, is at  http://www.flac.ie/news/2014/10/28/government-states-firm-intention-to-enact-gender-r/