Lecturer warns that debt is the over-riding social problem
2 December 2009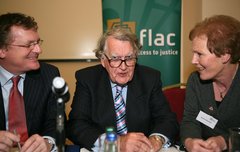 At a lecture on access to justice organised by the independent legal rights group, FLAC, the former independent Senator and Northern Ireland's former Ombudsman Dr Maurice Hayes warned that debt was the "over-riding social problem in the immediate and middle term future". He said that the focus on debt was "in no doubt" given the recession, the reduction in spending power, the spectre of negative equity and the difficulty in obtaining credit.
Referring to his own background in the Northern Ireland Department of Health, Dr Hayes went on to say that when his department was "introduced to the language of targets and outcomes, we had to ask ourselves whether we were doing well when the hospital beds were full or when they were empty. The same sort of question could be asked of the justice system about courts and prisons".
He went on to analyse the problem as one of poverty: "Lift people out of poverty, raise the quality of life and the level of social competence and they will sort out most of their problems for themselves."

---
Editors' notes:
Dr Hayes is speaking at FLAC's Annual Dave Ellis Lecture at the President's Hall, Law Society, Blackhall Place, Dublin 7 on Tuesday 1 December 2009. The event will commence with the launch of FLAC's online audio archive and Dr Hayes will speak at 6.30 pm. The lecture will be followed by a reception for FLAC volunteers and guests in this, its 40th anniversary year.
FLAC organises the annual memorial lecture to commemorate Dave Ellis, a community legal activist, Dave dedicated his career to working with local groups on issues like welfare rights, legal aid, legal education and legal entitlements generally.
FLAC (Free Legal Advice Centres) is an independent human rights organisation dedicated to the realisation of equal access to justice for all. It campaigns through advocacy, strategic litigation and authoritative analysis to contribute to the eradication of social and economic exclusion.
The latest copy of FLAC's newsletter is available online in PDF format.