Volunteering at a Free Legal Advice Clinic
We are currently recruiting Volunteer Advisors for our Remote Free Legal Advice Clinics
"Volunteering with FLAC allows you to make a difference to peoples' lives. I get to listen to and help people in their times of need with my legal skill set." - FLAC Volunteer Legal Advisor Roisin Fitzpatrick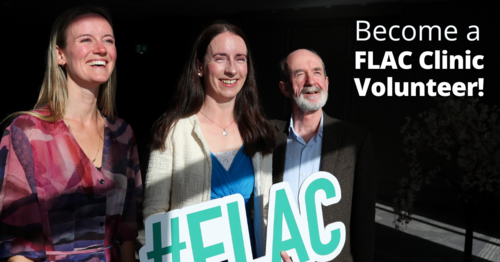 What does a Volunteer Advisor do?
Our volunteers Diyu and Mairead volunteers explain what a volunteer Advisor does in these short videos
What skills and qualification do I need to volunteer in a FLAC clinic?
Volunteer Advisors are solicitors or barristers who are fully qualified to practise law in Ireland. They provide basic legal information, advice and referral to the service users.
The qualities you need are
Motivation to become a volunteer
Ability to remain non-judgemental
Ability to be respectful and constructive at all times
Ability to work as part of a team
Ability to communicate effectively
Ability to accept guidance and support from FLAC staff 
What is the time commitment?
Two hours once a month on a day of your choice.
How do I become a volunteer
We will

Send you our Volunteer Application Form to fill in
Review your application
Invite you to attend our Online Volunteer Induction
How does remote volunteering work?
You will receive the name, telephone number and a synopsis of the legal query for four service users.
In a private room that is free from disruption for the two-hour period of the clinic, you will call the service user on our Phone App. You will

provide advice on the legal issue
set out what options are open to the service user
direct them to where they may obtain further assistance
refer them to other relevant support services
What Support do Volunteers Advisor receive?
Induction
Free CPD Training
Professional Indemnity Insurance
Access to our Volunteer Assistance programme
Do you have volunteer vacancies for people who are not qualified to practice law?
Unfortunately we do not have any volunteer opportunities for people who are not qualified to practice law