Become a volunteer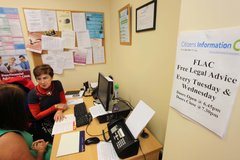 FLAC has always depended on the dedication of its volunteers who are involved with our work in many ways and share FLAC's passion for making law more accessible. Our volunteers support some of the most disadvantaged people in our communities and assist them to realise their right to access to justice.
If you are interested in joining us in widening access to justice, we would be delighted to hear from you! Below are some of the main ways you can get involved:
You can become a volunteer lawyer in one of the Free Legal Advice Clinics around Ireland - you can read more about what to expect. Areas where urgent help is required are listed on the right below.


You can volunteer with the PILA (Public Interest Law Alliance) Pro Bono Referral Scheme. PILA is a project of FLAC that connects social justice organisations with free legal expertise. Law firms and lawyers provide much-needed assistance by helping NGOs with ad hoc legal advice, public interest litigation support, Law Reform Working Groups, legal education sessions or more sustained pro bono projects. Read more on the PILA website.


Occasionally we also need volunteer help with administrative, event and project work. From time to time we involve people to help out with our Legal Advice Clinics by assisting the volunteer lawyer or helping with reception duties in those clinics. Unfortunately we have reached our capacity to engage administrative or assistant volunteers at the present time.
FLAC is committed to its volunteers and intends to carry out the highest level of best practice in every aspect of volunteer management. If you are interested in volunteering with FLAC, check out our Volunteer Registration form. You can also call us at 01-887 3600 or e-mail us. Please get in touch!