About FLAC
What we do
FLAC is an independent human rights organisation dedicated to the realisation of equal access to justice for all. To this end it campaigns on a range of legal issues but also offers some basic, free legal services to the public.
FLAC currently concentrates its work on four main areas: Civil Legal Aid, Social Welfare Law Reform, Credit & Debt Law and Public Interest Law. More information on our current work in all these areas is also available in the priority areas section. You can also view a short film by Atlantic Philanthropies, which funds FLAC, about our work and principles.
Why is access to justice so important?
Every year, many people encounter legal problems relating to family matters, debt, eviction, employment, and social welfare, among others. Due to their financial circumstances, the poorest and most marginalised people in society are often unsure of their rights and are unable to access legal advice on their position or representation in the courts: they are effectively denied access to justice.
In a democratic society all citizens have a right to access justice and get a fair trial, yet the government has accepted only in a limited way its responsibility to help those who cannot afford it. As such, many people are still denied access to the law and are unable to vindicate their rights or resolve their difficulties.
Access to justice, in the form of legal information, legal advice and representation in the courts, as well as campaigning and research, gives people with little power in our society, economically or socially, a way to enforce their rights.
Free Legal Advice Centres - promoting access to justice since 1969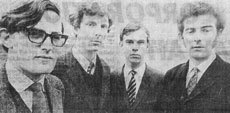 The founders of FLAC pictured in 1969, L-R: Vivian Lavan, Denis McCullough, David Byrne and Ian Candy.2009 marked the 40th anniversary of FLAC's founding by four law students in 1969, former Attorney General David Byrne SC, Denis McCullough SC, Mr Justice Vivian Lavan and retired Hong Kong magistrate Ian Candy.
In the four decades since then, the organisation has often struggled financially to keep its doors open, but has always strived to promote equal access to justice for all and to achieve a more socially just society. The volunteers who offer legal advice and information in FLAC centres in communities all over Ireland form the backbone of the organisation.
What do you think?
Have you visited a FLAC Centre with a legal problem? Or received legal information from our telephone information line? Have you had experience with the state civil legal aid service? We'd like to hear from you - please contact us to let us know your experience and opinions.