Moneylending and the Law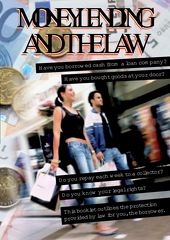 Download
Please note that this information is dated as of a specified time and may not be legally valid.

Summary
Booklet providing information on moneylending in Ireland. The law on moneylending is dealt with by the Consumer Credit Act 1995. This Act gives the borrower many rights, as well as placing obligations on the moneylender. It also makes certain practices illegal. The booklet deals with the following questions:
How are moneylenders licensed and controlled?
What is a moneylending agreement?
What are the different types of loan a moneylender offers?
What paperwork are you entitled to when taking out a loan from a moneylender?
What other obligations are placed on licensed moneylenders by the Act?
What practices are not allowed under the Act?
Besides moneylenders, what other options exist to borrow money?
Where should you make a complaint about a moneylender and who can be contacted for further information?