PILA Bulletin, 17 December 2009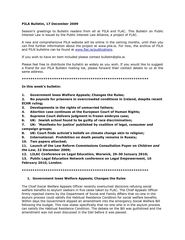 Download
Please note that this information is dated as of a specified time and may not be legally valid.

Summary
In this week's bulletin:
1. Government loses Welfare Appeals; Changes the Rules;
2. No payouts for prisoners in overcrowded conditions in Ireland, despite recent ECHR ruling;
3. Developments in the rights of unmarried fathers;
4. Abortion case continues at the European Court of Human Rights;
5. Supreme Court delivers judgment in frozen embryos case;
6. UK: Jewish school found to be guilty of race discrimination;
7. UK: 'Manifesto for justice' published by coalition of legal, consumer and campaign groups;
8. UK: Court finds activist's beliefs on climate change akin to religion;
9. International: Prohibition on death penalty remains in Russia;
10. Two papers attached by Michael Farrell and Richard Humphreys SC;
11. Launch of the Law Reform Commissions Consultation Paper on Children and the Law, 22 December 2009;
12. LILAC Conference on Legal Education, Warwick, 29-30 January 2010;
13. Public Legal Education Network conference on Legal Empowerment, 10 February 2010, London.