Meet The Volunteer - Sharon
23 September 2020
I work as a barrister and am based in Dublin. I primarily practice in employment, probate and administrative law. I had hobbies once upon a time but I have two children now so my favourite way to spend my free time is napping (me, and sometimes them!) 
I only signed up as a PILA Volunteer a year ago. I had been meaning to do it for some time but as is often the way, it didn't happen. One of the reasons I was slow to sign up is that I wasn't sure about the time commitment but I have found that it is very flexible and I can dip in and out as my work capacity allows. I might take on one matter every two months or so and then there might be a period of time where either I can't take anything on or the requests issued aren't well matched to my area of practice. It is not a rigid arrangement at all which is part of the reason it works well for me.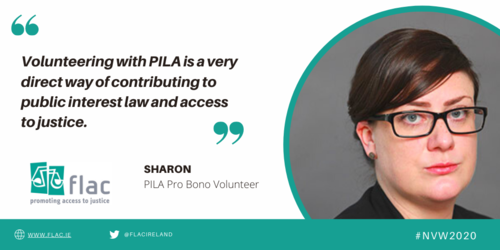 I think that volunteerism is extremely important and more specifically in the area of legal practice. It sounds trite I know, saying that it is a privilege to do a particular job, but there is no doubt that having the opportunity to study and train in law is built on certain privileges be they family support, financial stability or a roof over your head. It is a small ask to acknowledge that privilege by using that education and opportunity to assist those who have not had the same breaks in life. Invariably requests for assistance come from individuals who have difficulty accessing justice or organisations who work in social justice, public law and advocacy, so it feels like volunteering with PILA is a very direct way of contributing to public interest law and access to justice.
The first piece of work I did with PILA has stayed with me, I was representing a client in a Labour Court hearing. She had worked excessive hours in her job when she first came to Ireland and did not understand her rights. She was determined to expose her employer's practice and she hoped that it would prevent other workers having that same experience. Her focus and organisation was extraordinary. She was a migrant woman with limited support in Ireland who took on the task of instigating a complaint against her former employer; she was not deterred by an unsuccessful first instance result and saw the case through to appeal. The Labour Court appeal was successful and she was awarded a sum of compensation which was quite significant to her and her family and her efforts were vindicated. It was a fantastic experience to have been part of her case and to have assisted her in getting a just result. 
Sharon, PILA, Pro Bono Volunteer