Almost 29,000 people helped with legal advice and information in 2015
3 October 2016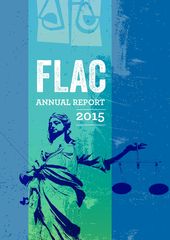 Top issues: housing, family law, employment law, debt & credit
 The continuing impact of austerity in Ireland is borne out by data on legal need for 2015 released by legal rights organisation FLAC (Free Legal Advice Centres), drawn from queries to its national telephone information line and in the countrywide network of volunteer legal advice clinics.
 FLAC's annual report for 2015 shows almost 29,000 people received direct help from a volunteer lawyer or via the telephone helpline, with over 10,000 downloads of legal guides from the organisation's website. Issues that have loomed large over the recession - housing, family law, credit and debt, employment - dominated queries from the 15,866 callers to FLAC's helpline. In local advice clinics, generally run in conjunction with Citizens Information Centres, some 12,881 callers got advice on family law, employment law and debt & credit issues. Other prominent areas of enquiry to both services were wills & probate, consumer law and criminal law. 
 Noting the tremendous work done in 2015, FLAC chairperson Peter Ward paid special tribute to the hundreds of volunteer lawyers who provide legal assistance to the public every day, free of charge, all over Ireland: "The generous efforts of hundreds of lawyers all over Ireland make a real and tangible difference in the lives of thousands of people seeking access to justice. We are deeply indebted to them."
 Acknowledging the achievements of the organisation throughout the year, Peter Ward noted that 2015 saw the final culmination of FLAC's longest running public interest case, with Dr Lydia Foy finally receiving her birth certificate to reflect her true gender after 18 years of litigation on foot of a broadly progressive new Gender Recognition law. "Lydia's hard-fought victory shows that law is a key tool to access basic rights. We in FLAC know that our mission of promoting access to justice means not just access to the courts, but also access to systems of redress people need in their daily lives to achieve a fair outcome. In 2015, FLAC continued to monitor such systems of redress in areas like personal debt, consumer credit and social welfare, making legal and policy submissions, taking strategic cases that achieve change for wider groups and offering legal training and supports to frontline groups," said Mr Ward.
 In particular, the impact of austerity on fundamental human rights and access to justice ran though the organisation's work in 2015. FLAC last year co-ordinated a civil society report to the UN on how the Irish state is meeting its duties under the International Covenant on Economic, Social and Cultural Rights. In June 2015 the UN expert committee drew heavily on this report to call on the Irish state to phase out austerity measures in state structures that uphold basic human rights – such as in housing, health, social welfare and civil legal aid.
 FLAC Chief Executive Eilis Barry voiced the organisation's ongoing concern over the disproportionate impact of austerity on vulnerable groups. She singled out the high rate of successful appeals of initial refusals of applications for social welfare: "The Appeals Office's own annual report for 2015 shows that nearly 60% of the total of 25,406 appeals on initial refusals of welfare applications were successful. That indicates a pressing need for better first-instance decision-making. With appeals still taking on average almost five months to process, people are experiencing real hardship.
 "We are particularly concerned about the average processing time of 18 weeks for appeals of supplementary welfare allowance, a payment designed as a safety net for those with no other means to survive. The UN Committee on Economic, Social and Cultural Rights last year said it was concerned at the high number of decisions overturned at the appeals stage. It recommended that appeals be decided in a consistent and transparent manner and that appropriate training be provided to decision-makers at first instance. More transparency and better consistency can only help vulnerable people and improve the Office's efficiency," she concluded.
 The organisation's public interest law arm, the Public Interest Law Alliance, continued to grow from strength to strength, last year helping 95 social justice organisations to access pro bono legal assistance and other supports from volunteer lawyers. PILA's work on building capacity in civil society to use law as a tool for positive social change led to many innovative collaborations, like a seminar series on how public interest litigation has changed society and securing a government commitment to 5% pro bono/CSR work in public legal tenders. PILA facilitated a host of legal referrals harnessing for public good the pro bono skills of 300 individual lawyers, 2,000 solicitors in 22 law firms and 4 in-house legal teams; one example was a pilot project between civil society body Inclusion Ireland, law firm Mason Hayes & Curran and the legal team at LinkedIn seeking to empower people with intellectual disabilities by helping them make a will.
 /ENDS
__________________________________________________
Editors' notes:
FLAC (Free Legal Advice Centres – www.flac.ie) is a human rights organisation which exists to promote equal access to justice for all. As an NGO, FLAC relies on a combination of statutory funding, contributions from the legal professions and donations from individuals and grant-making foundations to support its work.


We offer free, confidential basic legal information on our lo-call telephone line at 1890 350 250, and free legal advice through a nationwide network of volunteer evening advice centres (see http://www.flac.ie/gethelp for a full listing). FLAC also campaigns for legal reforms on a range of issues including personal debt, fairness in social welfare law, public interest law and civil legal aid. Information on FLAC's Public Interest Law Alliance is available at www.pila.ie  


You can download the full report at http://www.flac.ie/publications/annual-report-2015/


Headline statistics for FLAC information services in 2015:
15,866 telephone line calls:
Top areas of law – housing/landlord & tenant 21.9% of calls, family 20.4%, credit & debt 6.8%, employment 6.6%
housing/landlord & tenant calls up 62.4%
credit and debt calls down 16.3%
consumer calls up 25.3%
FLAC Information line

2015

Primary area of law:

callers

% of callers

Housing/Landlord & Tenant

3,476

21.9

Family

3,235

20.4

Credit & Debt

1,085

6.8

Employment

1,044

6.6

Legal Services

1,033

6.5

Criminal

874

5.5

Will/Probate

859

5.4

Civil

808

5.1

Consumer

604

3.8

Property/Interest in Land

485

3.1

Other

473

3.0

Client-Solicitor relations/issues

368

2.3

Legal Aid

330

2.1

Negligence/Personal Injury

273

1.7

Contract

247

1.6

Social Welfare

217

1.4

Neighbour disputes

192

1.2

Immigration/refugee

145

0.9

Company

80

0.5

Discrimination

38

0.2

Total

15,866
12,881 queries recorded at 66 participating legal advice clinics across 21 counties:
Top areas of law – family 33.7% of callers, employment 14.6%, wills & probate 9.2%, credit & debt 7.9%, housing/landlord & tenant 6.3%.
credit and debt down 26.7%
Half of all family law queries (48%) on a divorce or separation. Roughly one third of family law queries in both the centres and on the phones are maintenance-related.
Legal Advice Centres

2015

Primary area of law:

Callers

% of callers

Family

4347

33.7

Employment

1874

14.6

Will/Probate

1184

9.2

Credit & Debt

1013

7.9

Housing/Landlord & Tenant

807

6.3

Consumer

789

6.1

Negligence/Personal Injury

674

5.2

Criminal

650

5

Property/Interest in Land

619

4.8

Other

562

4.4

Immigration/refugee

451

3.5

Neighbour disputes

290

2.3

Social Welfare

274

2.1

Client-Solicitor issues

150

1.2

Total

12,881
The UN Committee on Economic Social and Cultural Rights issued comments and recommendations (Concluding Observations) to the Irish Government in June 2015, following inputs from the State and Irish civil society groups coordinated by FLAC. You can read the full list of recommendations at http://www.ourvoiceourrights.ie/resources/uncescr-concluding-observations-2015/.
All documents relating to the civil society report to the UN on how Ireland is meeting its obligations under the Covenant on Economic Social and Cultural Rights are available on the Our Voice, Our Rights website: http://www.ourvoiceourrights.ie/. 
FLAC commented on the Social Welfare Appeals Office 2015 annual report in May 2016, calling for a series of reforms – read more at http://www.flac.ie/news/2016/05/20/high-success-rate-of-social-welfare-appeals-sugges/. FLAC's analysis report of the Social Welfare Appeals system, Not Fair Enough (2012), is at http://www.flac.ie/publications/not-fair-enough/.