FLAC welcomes Gender Recognition Bill after 17-year legal battle
19 December 2014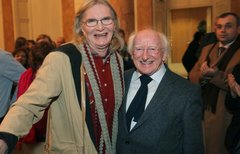 Campaigner Lydia Foy speaks of joy over recognition before the law at last
 FLAC welcomes today's publication of the Government's Gender Recognition Bill, seven years after the High Court held that the failure to recognise transgender (Trans) persons in Ireland was in breach of the European Convention on Human Rights (ECHR) and 21 years after Dr Lydia Foy had first requested a new birth certificate in her female gender.
 The legal rights group now awaits the introduction of the Bill in the Oireachtas, due before the end of January 2015 under the terms of the settlement of legal proceedings taken by Dr Lydia Foy, represented by FLAC.  The Government has committed to getting the Bill passed into law as soon as possible in 2015.
 According to FLAC Senior Solicitor Michael Farrell, who represented Ms Foy in her case, "This Bill is a hugely important step in ending the shame of the state's treatment of Trans persons for so many years.  That shame has been all the greater since 2002, when the European Court of Human Rights stated very clearly that Trans persons had a right under the Convention to have their preferred gender legally recognised by the state."
 The passing of the Bill will end the grave embarrassment whereby Ireland is now the only state in the European Union with no provision at all for recognising Trans persons in their preferred gender.  It will help to put an end to the suffering of hundreds of Trans persons and their families who have endured humiliation, abuse and even violence over the years. As a result of prejudice many Trans persons have been forced to live in fear of being "outed".
 Dr Lydia Foy, whose 17-year legal battle led to the Government's adoption of the Bill, said: "I am delighted that I and hundreds of other Trans persons will shortly be able to get birth certificates showing the gender that we live in every day.
 "It has been a hard and lonely struggle and there were times when I felt near to despair", said Dr Foy. "But it will have been worth all the pain when this Bill is signed into law and Trans persons will be recognised just as persons like everyone else".
 FLAC commented that publication of the Bill was also a long overdue move by the Government to respect and carry out its obligation to observe and implement the European Convention on Human Rights and its duty to take action when the courts make a declaration that its policies or actions are in breach of the Convention.  The failure to bring in gender recognition legislation following the High Court decision in the Foy case showed disrespect by successive governments for the ECHR and for the Irish legislation introduced ten years ago to incorporate the Convention into Irish law.
 FLAC also noted that there were still problems with some sections of the proposed law. "We regret that the Bill is not as generous or inclusive as it might have been and that it will require Trans persons who are already married to divorce their spouses as a precondition to legal recognition.  This is almost certain to give rise to a new legal challenge and will appear unnecessary if the referendum on same-sex marriage is passed early in 2015," added Mr Farrell.
 The Bill also fails to make provision for young persons under 16, who are particularly vulnerable to bullying and harassment at a very sensitive period in their lives. FLAC suggested that it should be amended to require respect and support for young Trans persons, especially those still at school.
 Although the Bill will not require Trans persons to undergo surgery or other invasive treatment, it still places an undue emphasis on certification by medical practitioners for Trans persons who want to secure recognition in their preferred or true gender.
FLAC said it hoped that the Government would see its way to drafting or accepting amendments about these issues as the Bill proceeds through the Oireachtas.
 Mr Farrell said: "This is a major step out of the shadows for Trans people in Ireland.  We would just urge the Government that having travelled a long way along the road to equality for Trans people, they should take the last few steps towards full inclusion of this vulnerable minority."
 /ENDS
 Editors' notes:
FLAC (Free Legal Advice Centres) is a human rights organisation which exists to promote equal access to justice for all. As an NGO, FLAC relies on a combination of statutory funding, contributions from the legal professions and donations from individuals and grant-making foundations to support its work.
We offer basic legal information through our telephone information line and free legal advice through a network of 80 volunteer evening advice centres. FLAC also campaigns on a range of issues including personal debt, consumer credit, fairness in social welfare law, public interest law and comprehensive civil legal aid.
The Gender Recognition Bill 2014 is on the Oireachtas website at http://bit.ly/1wKqeIe  and a statement from the Department is at http://bit.ly/1w5BUjv .
You can download a comprehensive briefing note on the Foy case (Feb 2013) at http://www.flac.ie/publications/foy-case-briefing-note-feb-2013/.  A press release on the settlement of her second case in October 2014, based on the government's pledge to introduce a Transgender Recognition Bill, is at  http://www.flac.ie/news/2014/10/28/government-states-firm-intention-to-enact-gender-r/