Irish transgender champion Lydia Foy among top European Campaigners of 2013
25 September 2013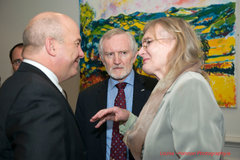 Long-time transgender campaigner Lydia Foy travels to London tomorrow for the selection of this year's European Campaigner of the Year. 
Ms Foy has been shortlisted as one of eight nominees from all over Europe for the highly prestigious European Diversity Award, which is sponsored by Barclays Bank and Google, among other major companies. The winner will be announced at a gala dinner in London tomorrow evening (26 September).
She will be accompanied by her legal counsel, Michael Farrell, Senior Solicitor with legal rights group FLAC, as well as Ms Orlaith O'Sullivan, representing transgender rights campaigners TENI.
 FLAC sees the award as a major honour for Lydia Foy after 20 years of campaigning for legal recognition. The organisation has represented Dr Foy in a series of legal challenges over the last 16 years.
Saying she was delighted to be in the running for such a high-level award, Ms Foy commented, "I see this as a great honour for all trans people in Ireland."
The European Diversity Awards are viewed as Europe's major platform for recognising campaigning work for diversity and inclusion in the workplace and society as a whole. The 2012 'Campaigner of the Year' was Doreen Lawrence, mother of black teenager Stephen Lawrence who was murdered by racists in London in 1993.
Senator David Norris has also been nominated in the same category in appreciation of his long struggle for gay and lesbian rights in Ireland and elsewhere. The venue for the Awards is the great hall of London's iconic Natural History Museum.
Represented by FLAC, Ms Foy won a High Court case in October 2007, when the court ruled that her rights under the European Convention on Human Rights had been violated by the failure to recognise her in her female gender. The Government announced Heads of a Bill to recognise transpersons in July 2013 which is set to be discussed in committee in the coming weeks. However it has already been widely criticised by the transgender community and no timetable has yet been set for bringing in legislation.
/ENDS
____________________________________________________________________________
Editors' notes:
FLAC (Free Legal Advice Centres) is a human rights organisation which exists to promote equal access to justice for all. As an NGO, FLAC relies on a combination of statutory funding, contributions from the legal professions and donations from individuals and grant-making foundations to support its work.
We offer basic legal information through our telephone information line and free legal advice through a network of 80 volunteer evening advice centres. FLAC also campaigns on a range of issues including personal debt, fairness in social welfare law, public interest law and civil legal aid.
You can download a comprehensive briefing note on the Foy case (Feb 2013) at http://www.flac.ie/publications/foy-case-briefing-note-feb-2013/. 
More information on the European Diversity Awards is available at http://www.europeandiversityawards.com/shortlist-2013.html