Transgender law needed to avoid two-tier system
27 March 2013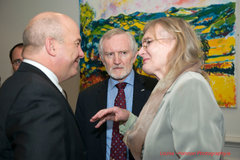 The government must legislate for the recognition of all transgender people in Ireland, said legal rights group FLAC (Free Legal Advice Centres) today. The organisation made its call in the wake of news that the state will recognise transgender persons from other countries and allow them to marry or enter into civil partnerships in their acquired gender, but not Irish-born transgender persons.
"We welcome the recognition of transgender people from other countries, but this could create a two-tier system where Irish-born transgender people are treated unequally," said Michael Farrell, FLAC Senior Solicitor.
The government in a statement to the Council of Europe has confirmed that gender reassignment is not recognised in Ireland. "This highlights yet again that, as the High Court said in the case of Lydia Foy, Ireland is now very isolated in the Council of Europe on this issue," commented Mr Farrell.
The Government statement was made to the Human Rights Steering Committee of the Council of Europe, which includes all 47 European countries and which met in Strasbourg last week. The statement was made in response to a questionnaire on LGBT rights sent to all member states. The Steering Committee will report on responses to the questionnaire to the Committee of Ministers of the Council of Europe in April.

Last month Lydia Foy issued fresh proceedings in her challenge to the state's failure to provide for the legal recognition of her female gender. FLAC has represented Lydia throughout her 16-year legal battle.
"Transgender people in Ireland have suffered from prejudice, ignorance and discrimination for far too long", said Mr Farrell. "Almost every state in Europe now recognises transgender persons' right to respect for their dignity and identity. Must we always be the last to catch up?"
/Ends
___________________________________________________________________________________________________________

Editors' notes:
FLAC (Free Legal Advice Centres) is a human rights organisation which exists to promote equal access to justice for all. As an NGO, FLAC relies on a combination of statutory funding, contributions from the legal professions and donations from individuals and grant-making foundations to support its work.
We offer free, confidential basic legal information on our lo-call telephone line at 1890 350 250, and free legal advice through a network of 80 volunteer evening advice centres. FLAC also campaigns for legal reforms on a range of issues including personal debt, fairness in social welfare law, public interest law and civil legal aid.
You can read an updated briefing note on the Foy case on the FLAC website
You can also read about the case of Maria, whom FLAC represented in her successful case to have her civil partnership recognised as a foreign-born trans person.
The Irish response to the Council of Europe questionnaire is available online