Relief at insolvency law reform - wary on bank veto & debtor supports
29 June 2012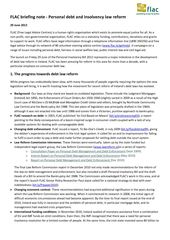 Legal rights group FLAC (Free Legal Advice Centres) today expressed its relief that the long-promised and very badly needed Personal Insolvency Bill had finally been released today.
"This proposed law addresses issues on which FLAC has been campaigning for the last ten years," said FLAC Director General Noeline Blackwell. However she stressed that the new Bill must prove its effectiveness in the face of a massive and urgent societal problem of people unable to deal with their debts. According to Noeline Blackwell, "that means the state must offer a suite of effective solutions that people can understand and negotiate themselves or offer proper supports to guide them where appropriate."
FLAC broadly welcomed the Bill as providing a structure for people to start dealing with unsustainable debts in a structured manner. "While the Bill is only for those who are unable to pay their debts in full, it will also help people who need a bargaining chip with their creditors," said Ms Blackwell. However, she said the organisation continued to have concerns around the imbalance of power between banks and debtors, as the Bill preserves the creditors' veto in respect of the Debt Settlement Arrangement and Personal Insolvency Arrangement options.
"The proposed law as it stands still does not impose a legally binding obligation on lenders to accept reasonable applications from customers in arrears; neither does the new bill provide a right for debtors to appeal a creditor's decision in any of its options," said Ms Blackwell.
On this issue, FLAC Senior Policy Researcher Paul Joyce pointed out that where debtor applications are refused by creditors, the only options open to debtors under the legislation may be to apply for bankruptcy.
FLAC remains concerned that all four elements of government action on mortgage debt plan- new legislation, bank cooperation, debtor information and support, and social housing - must have monitors and checks built-in to ensure the plan is working for debtors.
The bill has improved provision for reviewing the effectiveness of the Personal Insolvency Arrangement option, down to five years from the ten years proposed in January. However FLAC argues that this is still too long - reviews should be annual - and should be applied across all options.
The Bill provides for some measure of family home protection: A Personal Insolvency Practitioner proposing either a Debt Settlement Arrangement or a Personal Insolvency Arrangement must try to ensure that a debtor can maintain the family home, unless the mortgage is unsustainable or unsuitable.
"The coming months will pose major challenges for everyone grappling with the new legislation. In particular, debtors will need comprehensive money and legal advice about the legislation, the options it presents and associated measures. The last thing indebted people need is a confused picture as to what and where state supports can be sought," commented Paul Joyce, FLAC Senior Policy Researcher. "It is unclear, for example, exactly how the new state-funded 'Mortgage Information and Advice Service' is to mesh with the existing state-funded 'Money Advice and Budgeting Service'. Plans around this aspect of the action plan should be clarified as soon as possible."
Initial reactions from FLAC to the Personal Insolvency Bill 2012:
The Bill is broadly similar to the draft scheme outlined in January 2012. There are a few interesting additions.
Overview : The four options below comprise three tiers of out-of-court arrangements and a final bankruptcy option through the High Court:
Debt Relief Notice for write-off of qualifying debt up to €20,000, subject to a three year supervision period,;
Debt Settlement Arrangement for agreed settlement of unsecured debt over 5 years;
Personal Insolvency Arrangement for agreed settlement of secured debt up to €3 million (this cap can be waived with the consent of all secured creditors) and unsecured debt, over 6 years;
Bankruptcy legislation to provide for automatic discharge from bankruptcy after 3 years, except in cases of non-co-operation or fraud, on which the court officials would adjudicate.
A new Insolvency Service will certify or determine applications for the Debt Relief Notice, and will certify applications for the Debt Settlement Arrangement or Personal Insolvency Arrangement, and these will be ratified by the Circuit or High Courts. Lastly, Personal Insolvency Practitioners will make proposals on behalf of debtors in the Debt Settlement Arrangement and Personal Insolvency Arrangement and must act impartially.
FLAC observations:
The creditor threshold on debtor proposals under the DSA and PIA is 65%, which still constitutes a veto. However, FLAC notes it may be less attractive for creditors to reject out-of-court proposals, as the alternative may be a 3-year bankruptcy where the creditor may receive less money.
In bankruptcy, an income payments order may be made at any time during the three years of bankruptcy; the order can last up to five years.
Fees and costs may be high for the Debt Settlement Arrangement and particularly the Personal Insolvency Arrangement options, as in the latter the Insolvency Practitioner will have to monitor the arrangement for some time.
Interestingly, a Personal Insolvency Practitioner will have to be able to vouch that the debtor has been unable to come to a voluntary arrangement with creditor(s) before being able to apply for reliefs under the Bill. This gives an indication of how money advice structures and/or loan modification arrangements will fit in with the new options, in that debtors must first seek to settle debts outside the remit of the new legislative options.
It is ironic, in FLAC's view, that the Bill requires six months of cooperation with the mortgage lender under the Code of Conduct on Mortgage Arrears (or similar Central Bank-approved process) before applying for a PIA. Yet the recent changes to Mortgage Interest Supplement mean that a person must currently prove 12 months of making agreed alternative payment arrangements under the Code of Conduct before he or she can even apply for the Supplement.
A new provision here is that while secured debt is not part of a Debt Settlement Arrangement, in practice, the Insolvency Practitioner must try to ensure in the arrangement that the debtor can maintain the family home, unless it is an unsustainable or unsuitable mortgage.
The provision for review of the PIA after 5 years is still too long. It is worth noting that the €3 million cap on secured debts under the PIA can be waived with agreement from all creditors which may be useful for creditors looking for an out-of-court solution to higher debts.
Also, a person looking for relief under any of the three options set out in the Bill must be resident in Ireland now or have been living or having a business here for some part of the previous year. This will be welcome news for people who have emigrated recently and who have debts at home.
While a minimum protected income is referred to in the Bill there are no regulations as yet to provide detail.
For bankruptcy, the applicant's debts must exceed his or her assets by at least €20,000.
/Ends
---
Editors' notes:
1. FLAC (Free Legal Advice Centres) is a human rights organisation which exists to promote equal justice for all. FLAC is an NGO that relies on a combination of statutory funding, contributions from the legal professions and donations from individuals and grant-making foundations to support its work. FLAC offers basic legal information through its telephone information line and free legal advice through its network of 80 volunteer evening advice centres. It also campaigns on a range of issues including personal debt, fairness in social welfare law, public interest law and civil legal aid.
2. FLAC has prepared a briefing note on the background to the reform of personal debt and insolvency laws which is available at http://bit.ly/PIbriefing
3. There will be a FLACsheet on the Personal Insolvency Bill available on the FLAC website shortly. This will offer an analysis of the Bill for those concerned about its proposals. FLAC stresses that the Bill is not a law, it is a proposal that has yet to be agreed by the Oireachtas.
4. FLAC released its Annual Report for 2011 on 18 June, available to download at http://bit.ly/annrep2011
5. FLAC has the following resources available on the issue of personal debt:
NB: All resources available on our website .
a) Conference Microsite on Legislating for personal insolvency in Ireland: International developments and domestic issues (April 2012)
b) Reports:
- FLAC report on debt enforcement in the Irish legal system, To No One's Credit, (July 2009)
- FLAC landmark report on treatment of credit and debt in Irish law An End Based on Means? . This report was well received by politicians, financial experts and money advisors (May 2003):
c) Submissions:
- FLAC's final submission on the draft scheme of personal insolvency law (Mar 2012)
- FLAC presentation on the draft scheme of personal insolvency law to the Joint Oireachtas Committee on Justice, Equality and Defence (15 Feb 2012)
d) Papers:
- FLAC's overview of debt settlement schemes from around Europe, based on the work of Professor Jason Kilborn of John Marshall School of Law, Chicago (January 2012)
- Joint paper on 9 key principles on personal debt (October 2011)
- In September 2011 FLAC did an analysis of the latest mortgage arrears figures from the Central Bank which showed worrying levels of increase in arrears:
- FLAC Senior Policy Advisor Paul Joyce paper to the Law Reform Commission's Annual Conference on 'The Future of Debt Enforcement in Ireland' (December 2010).
- FLAC presentation to Joint Oireachtas Committee on Social and Family Affairs on levels & trends in personal debt in Irish society (April 2009)
e) FLACsheets & information pieces:
- FLACsheet on the Code of Conduct on Mortgage Arrears (January 2011)
- FLAC Checklist for Actions on Losing Your Job (updated April 2011)
- A briefing document on legislation to change the Enforcement of Courts Orders Acts 1926-1940
- FLAC proposals on short-term measures to tackle personal debt (March 2010)