Justice gap in Ireland continues to widen, says legal rights group
18 June 2012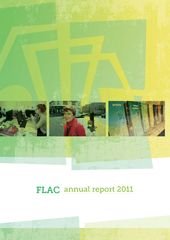 The public's need for information and assistance on legal matters continues to rise across Ireland, says legal rights group FLAC (Free Legal Advice Centres) in its annual report for 2011, with some 25,000 people contacting its telephone information line and legal advice centres last year.
The report was launched today by Minister for Justice, Equality and Defence Alan Shatter TD. The Minister volunteered for FLAC in the 1970s, chairing the organisation in 1974. He was presented with a photo from 1972 taken with Anne Colley, former TD and Legal Aid Board Chairperson, and the late David Molony TD.
FLAC noted a particular development around increasing debt problems intersecting with issues in other areas of law such as family, employment and housing. "FLAC has focused on reforming laws around personal debt because we have seen the terrible impact of over-indebtedness on people contacting us, having dealt some 83,000 legal queries since the start of 2008," said Noeline Blackwell, FLAC Director General. "We have kept it simple: we need an independent, out-of-court debt settlement structure that will examine people's personal debt in a holistic way and where possible aim to keep people in their homes."
Praising the solicitors and barristers who volunteer their time at FLAC's part-time advice centres around the country, Ms Blackwell said that the government needed first to understand the justice gap in Ireland before it can properly reform legal services here in a way that would truly widen access to justice for all.
"We know that this Minister understands the need to have more people access law, given his legal background and past involvement in FLAC," said Ms Blackwell, "but there are elements missing from the proposed Legal Services Reform Bill that could open up the law for more people, such as a better funded state legal aid system and a focus on making the courts more accessible."
"Ultimately our work in 2011 has been about making support systems fairer, more transparent and more robust," concluded Ms Blackwell. "Our society, including these support systems and every aspects of people's daily lives, is based on the rule of law. Any person can end up fully reliant on outside support, in circumstances beyond his or her control, and it is therefore in everyone's interest to make all our systems respect basic human rights and decency, especially in recessionary times."

/ENDS

---
Notes for editors:
1. FLAC (Free Legal Advice Centres) is a human rights organisation which exists to promote equal justice for all. FLAC is an NGO that relies on a combination of statutory funding, contributions from the legal professions and donations from individuals and grant-making foundations to support its work. FLAC offers basic legal information through its telephone information line and free legal advice through its network of 80 volunteer evening advice centres. It also campaigns on a range of issues including personal debt, fairness in social welfare law, public interest law and civil legal aid.
2. You can download the PDF of FLAC's annual report for 2011 in PDF format.
3. In 2011, FLAC provided basic legal information to 12,923 people via its telephone information line and handled 13,362 queries in its advice centres. FLAC is extremely grateful to the staff and managers of the Citizens Information Centres who host our voluntary legal advice service, and indebted to its volunteer advisors who generously provide more than 4000 hours annually to people in legal need.
4. FLAC has dealt with over 83,000 legal queries via its phoneline and advice centres since 2008. This breaks down as
2008: 9244 (phoneline) and 7733 (centres): 16,977
2009: 10,154 (phoneline) and 9321 (centres): 19,475
2010: 9712 (phoneline) and 10,967 (centres): 20,679
2011: 12,923 (phoneline) and 13,362 (centres): 26,285
Total queries 2008-2011: 83,416
5. In FLAC's key areas of work, FLAC has concentrated on providing practical, useful legal information to the public and to support other bodies working with the public, on monitoring the state's duty to respect, protect and realise basic human rights, and on promoting legal reform that is progressive, fair and that advances social justice. In 2011, we issued 8 guides on legal issues, made 14 submissions on a variety of topics and published 4 newsletters. This work includes: