Legal services reform must not be 'change for the sake of it'
21 February 2012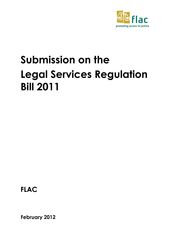 Government proposals to change how legal services are delivered in Ireland do not prioritise access to the legal system and thus will not improve the situation for many people, said legal rights organisation FLAC today.
" FLAC does not see the Bill increasing access to legal services for non-commercial bodies. It does not reduce legal costs and in fact leaves untouched areas which are hugely problematic and which cost people untold time and money, such as the overloaded courts and the underfunded civil legal aid system," said FLAC Director General Noeline Blackwell.
The organisation had earlier issued its submission in response to the Legal Services Regulation Bill 2011, which contains government proposals to reform legal services delivery, including how costs are calculated, how the profession is controlled and how people can become lawyers.
"FLAC regularly hears from people who are unhappy in their dealings with lawyers or who cannot access legal services generally. We see this Bill as an opportunity to introduce comprehensive best practice principles based on international standards for legal practitioners but also to really develop access to legal services for people in Ireland," said Ms Blackwell.
"There are sensible things the government could and should do, such as include all stakeholders in its drive to reform the sector. As part of tackling costs, it should first investigate thoroughly why services are as expensive as they are. It could bring in procedures that will both keep costs down and champion the public interest, such as protective costs orders and multi-party actions," said Ms Blackwell. "But most of all, the government must be really sure that any measures it takes will actually improve how people access law, as opposed to implementing change for the sake of it," she concluded.
FLAC's submission contains 17 recommendations on the Bill. It includes such proposals as
improving transparency around the adjudication of costs;
expressly including the right of people to access justice;
promoting a better understanding of law and the legal system generally as a first step to better explaining the system of legal services and costs;
setting up a pre-complaint process for the public that would clarify how costs and services are decided, possibly to include mediation;
investigating thoroughly why legal costs are so high and proposing measures to reduce them;
including all relevant stakeholders in how both the Legal Services Regulatory Authority and the Legal Practitioners Disciplinary Tribunal are governed.
/Ends

---
Editors' notes:
FLAC (Free Legal Advice Centres) is an independent human rights organisation dedicated to the realisation of equal access to justice for all. It campaigns through advocacy, strategic litigation and authoritative analysis to contribute to the eradication of social and economic exclusion.
FLAC's public interest law project, the Public Interest Law Alliance (PILA) has produced a report on protective costs orders.