New mortgage arrears code will not protect borrowers, says FLAC
17 February 2009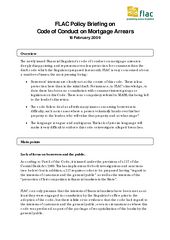 "The newly issued Financial Regulator's code of conduct on mortgage arrears is deeply disappointing and represents even less protection for consumers than the draft code which the Regulator prepared last month," according to legal rights group, FLAC, the Free Legal Advice Centres.

"The original draft of this code was to provide for an accumulation of 6 months arrears before court proceedings could be issued" according to Noeline Blackwell, FLAC's Director General. "The new and final version reduces that protection, such that a lender may start proceedings 6 months after any arrears at all, without requiring that the full 6 months must be owing."

The organisation says that because the state's mortgage interest supplement can take some months to process, and in addition can be applied quite restrictively by some community welfare officers, the situation of those in mortgage difficulty may not be improved at all by the code.

The language in the code is vague and ambiguous, making it difficult to enforce, according to FLAC. "The code gives guidance to lenders, urging them to deal sympathetically with borrowers in difficulty, but allows a number of escape routes for lenders who wish to short circuit the code."

Finally, the organisation says that the code fails to deal at all with a number of important aspects of mortgage arrears, including the sanctions that may be imposed for breaches of the code, or the legal costs that a lender may recover.

/ENDS