FLACies do it for free - join FLAC for the mini-marathon!
2 February 2009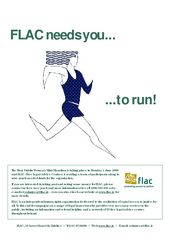 The Flora Women's Mini Marathon takes place in Dublin on 1 June 2009, the June Bank Holiday Monday. For the first time, FLAC is hoping to field a team to raise some much-needed funds. So we are seeking some willing volunteers who can get involved and help out.
It is a really fun event and well worth doing - most people who have participated are very happy to repeat the experience. You don't have to be super-fit - most people actually walk the 10 km (that's 6.2 miles, ladies!) and it's a great way to catch up on all the gossip while contributing to a really worthy cause. And you get a medal!
Applications will be available in the Evening Herald and online at www.womensminimarathon.ie from 26 February.
Some of us will be training in the (however faint) hope of actually running the race (you are welcome to join in!) and there are race training guides available on the dedicated website. There you will also find lots of information on the event itself, like the number collection day before the race and lots of stats - such as the fact that it's the largest women's sporting event in the world!
If you're interested, please e-mail us at the address below and we will send you out a race pack. You should then check out our entry on the MyCharity site which gives more details about FLAC and its work (http://www.mycharity.ie/charity/flac/). There you can set up your own fundraising page also which makes it dead easy to collect a few shillings. Alternatively, we can give you a fundraising card for some old-school cash-collecting.
If you know anyone who might also be interested, please get her to have a look at the site or to contact us here:
FLAC, 13 Lower Dorset Street, Dublin 1
Tel: 1890-350 250 / 01-874 5690
E-mail: volunteers@flac.ie
Website: http://www.flac.ie
You must be over 14 years to enter and the fee depends on whether you are Sonja O'Sullivan or not i.e. it ranges from €15 for joggers/walkers to €22 for Runners/fast joggers and people who want a timing chip. We will send you out full details of how to enter when you get in touch.
We look forward to hearing from everyone - no matter what way she intends to do it!
Resources:
Download FLAC's mini marathon poster calling for entries.